48HourVisit.com

Planning a short visit? Check out

48HourVisit.com

, your online guide for short stays and weekend getaways.

Ad

The Glossary

azmaris - "singer-musicians found in almost all Ethiopian diners and bars"
For being the supposed keeper of the Ark of the Covenant, Aksum has become Ethiopia's holiest city and prime pilgrimage destination. This ancient Ethiopian capital used to be one of the world's most powerful naval and trading rulers from 400 BC to 10th century. Remains of what was believed as the Palace of Queen Sheba, Africa's "Rosetta Stone," the world's biggest obelisk, and ancient tombs hidden in crypts engage tourists in a real, Indiana Jones-type of adventure.
A World Heritage Site, Aksum is a three-day bus ride from Addis Ababa. Once there, excursionists can easily hunt down one tourist spot after another by foot, with the help of local children who sideline as tour guides. The main tourist site is the Church of St. Mary of Zion, where Ethiopian legend says the Ark of the Covenant has been placed by Menelik I, King Solomon's son, said to have stolen the Ark from the temple of Jerusalem. Pilgrims flock there on the Festival of Maryam Zion every November and also on T'imk'et (Epiphany) in the hopes of getting a closer peek at the compound, since no one is allowed to go inside, not even Ethiopia's emperors.
Another local legend tells that Queen Sheba, a popular Koran and Biblical character, lived in Aksum and even built a palace and a huge bath, called Queen Sheba's Bath, which now lies in ruins.
In nearby Northern Stelae Field, numerous monolithic stelae (obelisks) are carved out of solid granite. They were believed to be built for great emperors. The biggest, called the Great Stelae, measures over 108 feet and weighs about 500 tons. The Great Stelae lies in ruins but the second-highest obelisk still stands at 78 feet. There is also a mausoleum and a tomb in the complex but these are not open to the public. The tomb, however, has a false door decorated using intricate workmanship. Outside the town, another stelae field, Judith, also has a collection of obelisks but of inferior quality.
If Egypt has its Sphinx and Rosetta Stone, Ethiopia has the Lioness of Gonedra and Ezanas Scriptures. The Lioness is a stone carving of a lion close to the quarry where the stelae were made, while the Scriptures are found in a museum near to the 4th-century tombs of kings Kaleb and Gebre Meskel, which can be navigated by torchlight.
Aksum Traveler Advice
User blogs:
Cheaper galactic spaceliner unveiled
News from http://news.ph.msn.com/top-stories/article.aspx?cp-documentid=3737940 Richard Branson unveiled Monday a commercial spaceliner offering tourists a cheaper chance to experience the thrill of weightlessness and view the splendor of the Earth from space. The British billionaire hopes to offer tickets aboard his spacecraft at a cost of 200,000 dollars each, giving adventurous ... Read full Blog post
Indonesia Eco Tourism
Tour Itenaray Day 01 BALI - LABUAN BAJO – RINCA ISLAND – KOMODO ISLAND (L.D) Pick up from your hotel in Bali and transfer to the airport, for flight to Labuan Bajo (West Flores) for approximately one and half hours. On arrival in Labuan Bajo airport, will be welcomed and met with our local representative or tour guide. Than transfer to the harbour to catch a boat cross to Rinca ... Read full Blog post
San Gimignano and San Pellegrino
Night falls on the flourishing and industrious San Gimignano, its 72 towers stand on the low roofs of the houses lit by the moon. This is not a luxury travel spot but is something you don't see every day. In the distance the clatter of hooves echoed tired in the Via Francigena. The hand of the blacksmith stops beating, the frame of the weaver becomes silent, the streets of the tank only a concert ... Read full Blog post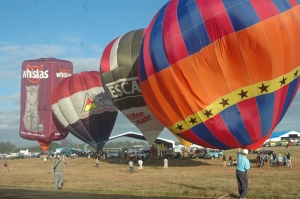 An Aerial fiesta in Clark Pampanga
Its a party in the sky as multi colored hot air balloons piloted ny different pilots from various partso of the world participated in this annual gathering. As early as 5am, the 2,500 hectare aviation complex at Clar Economic Zone in Pampanga was already crammedi with excitement. Clusters of hot air balloon participants busily prepare their own balloons for liftoff as they need to take advantage of ... Read full Blog post