48HourVisit.com

Planning a short visit? Check out

48HourVisit.com

, your online guide for short stays and weekend getaways.

Ad

The Glossary

gabi - "thick shawl"
Addis Ababa Travel Guide

/
Africa
/
Ethiopia
/
Addis Ababa
/ Introduction
From the first humanoid, Lucy, to present-day travelers looking for historical and cultural gems, Addis Ababa is still "The Original Home of Humankind." Scientists identify the city as the origin of humans before spreading across the globe. Some millennia after this historic migration, the third highest city in the world continues to be a melting pot of at least 80 different nationalities, perpetually stirring the city's mix of old and new: rundown huts alongside luxuriant hotels, medieval-clad priests talking to high-heeled diplomats, and azmaris (singer-musicians) belting out centuries-old melodies in futuristic nightclubs.
Upon landing on the city's international airport, the largest in Africa, travelers usually hunt and haggle for cheap hotel rooms before riding on blue lada taxis, the most common way to tour the capital. Very few streets have names and when they do, they are not properly indicated on the map so to get around, many tourists look for landmarks such as the Ethiopian National Museum, where Lucy's replica can be seen. Other sites such as Ethiopian Ethnological Museum (a former palace) and Ethiopian Natural History Museum are also good starting points to get acquainted with Ethiopian heritage.
The Shiro Meda is where traditional craftsmen sell pots and other essentials for the home. The market is at the foot of Entoto Mountains, which has a hiking trail leading to farmland summits that show the whole city's panorama, including the peaks of its churches like St. George's Cathedral and Savior of the World Cathedral, Africa's second largest.
One of the city's famous squares is Meskel, where an annual festival is held to commemorate Queen Helena's finding of the "True Cross." On ordinary days, a similar festive mood envelops Merkato, the world's largest outdoor market offering sundry goods like fabrics and metal sculptures. Nearby is Anwar Mosque, Ethiopia's biggest mosque, which represents the centuries-old harmony between Christians and Muslims since it is just nearby the Orthodox Raquel Church.
The world's largest pre-fabricated building is Shengo Hall, which was formed in Finland before being assembled in Addis Ababa. Apart from international conferences that have made Addis Ababa the "Capital of Africa," volunteering is a favorite activity in the city as it is a hub of over 120 international missions promoting a higher standard of living among children.
Addis Ababa photography
this is really good. vegeterian enjira. Ethiopian love Enjira. they eat it 3 times a day. with their by
Barak
i still didn't figure out the tatto thing by
Barak

the green - HAILE, the red - SILLASE, and the gold - the first by
Barak
User blogs:
Cheaper galactic spaceliner unveiled
News from http://news.ph.msn.com/top-stories/article.aspx?cp-documentid=3737940 Richard Branson unveiled Monday a commercial spaceliner offering tourists a cheaper chance to experience the thrill of weightlessness and view the splendor of the Earth from space. The British billionaire hopes to offer tickets aboard his spacecraft at a cost of 200,000 dollars each, giving adventurous ... Read full Blog post
Indonesia Eco Tourism
Tour Itenaray Day 01 BALI - LABUAN BAJO – RINCA ISLAND – KOMODO ISLAND (L.D) Pick up from your hotel in Bali and transfer to the airport, for flight to Labuan Bajo (West Flores) for approximately one and half hours. On arrival in Labuan Bajo airport, will be welcomed and met with our local representative or tour guide. Than transfer to the harbour to catch a boat cross to Rinca ... Read full Blog post
San Gimignano and San Pellegrino
Night falls on the flourishing and industrious San Gimignano, its 72 towers stand on the low roofs of the houses lit by the moon. This is not a luxury travel spot but is something you don't see every day. In the distance the clatter of hooves echoed tired in the Via Francigena. The hand of the blacksmith stops beating, the frame of the weaver becomes silent, the streets of the tank only a concert ... Read full Blog post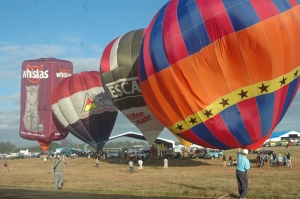 An Aerial fiesta in Clark Pampanga
Its a party in the sky as multi colored hot air balloons piloted ny different pilots from various partso of the world participated in this annual gathering. As early as 5am, the 2,500 hectare aviation complex at Clar Economic Zone in Pampanga was already crammedi with excitement. Clusters of hot air balloon participants busily prepare their own balloons for liftoff as they need to take advantage of ... Read full Blog post