48HourVisit.com

Planning a short visit? Check out

48HourVisit.com

, your online guide for short stays and weekend getaways.

Ad

The Glossary

lada - "blue taxis, the most common way to tour Ethiopia"
Nechisar National Park Travel Guide

/
Africa
/
Ethiopia
/
Nechisar National Park
/ Introduction
Nechisar National Park has always been a compelling character in Africa's adventure travelogue for being one of the best in Ethiopian safari. Located south of Ethiopia, Nechisar is a golden window of opportunity to see exotic animals and migratory birds flourishing in a natural habitat thick with color and vegetation. Adventure here is defined by fishing on the lakes, climbing on the foothills, hiking in groundwater forests, and visiting the crocodile farms before calling it a day in the nearby town of Arba Minch or "Land of 40 Hot Springs."
Through walking or boat safaris, animal-lovers may get acquainted with the park's hodgepodge of wildlife including grant's gazelles, zebras, dik-diks, kudus, swayne's hertebeests, black-backed jackals, and velvet monkeys. The park is also admired for its migratory bird populations such as kingfishers, pelicans, storks, flamingos and fish eagles. Most of the park is draped in dense bush land and the foothills and wooded valleys of Amaro Mountains, a destination for bushwalkers, mountaineers and campers.
The "Bridge of God," an isthmus, divides Nechisar between the lakes of Abaya and Chamo, which sustain the abundant life in the park. The lakes are regarded as the most attractive of their kind in Southern Ethiopia as they are garlanded by varied flora such as bizarre flowers, savannah plains, groundwater forests, and sycamore trees that can grow to up to 30 feet. Both lakes teem with fish, especially Nile Perch, a famous catch among game fishers. A hike along the lake leads to picturesque plantations of cotton and other crops. To Lake Chamo's north is a stretch called the Crocodile Market, where hundreds of crocs bath under the tropical heat.
A modern town linked to Addis Ababa by airplane, Arba Minch is the doorstep to Nechisar. The town is famous for its springs, a nice place to strike a conversation or to get involved in a game with the town's locals. Another means to get to know the people are through their varied cultural and artistic expressions showcased in the annual Thousand Stars Music and Dance Festival.
User blogs:
Cheaper galactic spaceliner unveiled
News from http://news.ph.msn.com/top-stories/article.aspx?cp-documentid=3737940 Richard Branson unveiled Monday a commercial spaceliner offering tourists a cheaper chance to experience the thrill of weightlessness and view the splendor of the Earth from space. The British billionaire hopes to offer tickets aboard his spacecraft at a cost of 200,000 dollars each, giving adventurous ... Read full Blog post
Indonesia Eco Tourism
Tour Itenaray Day 01 BALI - LABUAN BAJO – RINCA ISLAND – KOMODO ISLAND (L.D) Pick up from your hotel in Bali and transfer to the airport, for flight to Labuan Bajo (West Flores) for approximately one and half hours. On arrival in Labuan Bajo airport, will be welcomed and met with our local representative or tour guide. Than transfer to the harbour to catch a boat cross to Rinca ... Read full Blog post
San Gimignano and San Pellegrino
Night falls on the flourishing and industrious San Gimignano, its 72 towers stand on the low roofs of the houses lit by the moon. This is not a luxury travel spot but is something you don't see every day. In the distance the clatter of hooves echoed tired in the Via Francigena. The hand of the blacksmith stops beating, the frame of the weaver becomes silent, the streets of the tank only a concert ... Read full Blog post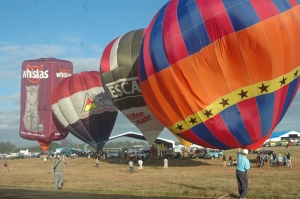 An Aerial fiesta in Clark Pampanga
Its a party in the sky as multi colored hot air balloons piloted ny different pilots from various partso of the world participated in this annual gathering. As early as 5am, the 2,500 hectare aviation complex at Clar Economic Zone in Pampanga was already crammedi with excitement. Clusters of hot air balloon participants busily prepare their own balloons for liftoff as they need to take advantage of ... Read full Blog post