48HourVisit.com

Planning a short visit? Check out

48HourVisit.com

, your online guide for short stays and weekend getaways.

Ad

The Glossary

gari - "horse-drawn taxi"
Boats from Bahir Dar regularly ferry pilgrims towards the vanishing islands of Lake Tana, Ethiopia's largest lake. It serves as a major pilgrimage site for having some of the world's oldest churches and mystical monasteries that safeguard the centuries-old remains of ancient Ethiopian emperors and treasures of the Ethiopian Church. The holiest of Lake Tana's isolated islands is Tana Qiros, which contains the rock where the Virgin Mary is said to have rested on her trip from Egypt. It is also where the Ark of the Covenant was allegedly kept from 400 BC to 400 AD before it was moved to Aksum. The island is now home to Ethiopian monks who preserve the islands' historical and religious artifacts.
The Greek missionary who introduced Christianity to Ethiopia, Saint Frumentius, is said to be buried on the island of Tana Cherqos. In Daga Island, the bodies of Ethiopian emperors Yekuno Amlak, Dawit I, Zara Yaqob, Za Dengel and Fasilides are kept at the Monastery of St. Stephen.
The largest of the islands, Dek, contains several monasteries including Narga Selassie, an 18th-century architectural marvel made of a giant Sycamore tree decorated in combined local and classical style. Churches such as the 14th-century Debre Maryam and Ura Kidane Mehret are known for their regalia.
Apart from these, there are the remote island monasteries of Kebran Gabriel, Daga Estifanos, Medhane Alem of Rema, Mertola Maryam, and Kota Maryam, which can be explored from two to 12 hours by chartered boat. In between the islands are a number of lakeshore villages. Lake Tana is the source of the Blue Nile River, which flows into a scenic waterfall, Blue Nile Falls or Tis Abay, a bus ride and a 30-minute hike away from Bahir Dar.
Bahir Dar, the nearest town to Lake Tana, is Ethiopia's third-largest city and the second largest in terms of ethnic diversity. Some tourists find Bahir Dar a good place to stay in for several days before or after visiting Lake Tana since the city is chock-full of markets, accommodations, ancient church art, and palm-lined boulevards pulsating with music and nightlife. Cycling is the most popular activity here, but touring the town on cheap minibuses or on more expensive horse-drawn carts and three-wheeler bajajs (taxis) is also worth an experience.
User blogs:
Cheaper galactic spaceliner unveiled
News from http://news.ph.msn.com/top-stories/article.aspx?cp-documentid=3737940 Richard Branson unveiled Monday a commercial spaceliner offering tourists a cheaper chance to experience the thrill of weightlessness and view the splendor of the Earth from space. The British billionaire hopes to offer tickets aboard his spacecraft at a cost of 200,000 dollars each, giving adventurous ... Read full Blog post
Indonesia Eco Tourism
Tour Itenaray Day 01 BALI - LABUAN BAJO – RINCA ISLAND – KOMODO ISLAND (L.D) Pick up from your hotel in Bali and transfer to the airport, for flight to Labuan Bajo (West Flores) for approximately one and half hours. On arrival in Labuan Bajo airport, will be welcomed and met with our local representative or tour guide. Than transfer to the harbour to catch a boat cross to Rinca ... Read full Blog post
San Gimignano and San Pellegrino
Night falls on the flourishing and industrious San Gimignano, its 72 towers stand on the low roofs of the houses lit by the moon. This is not a luxury travel spot but is something you don't see every day. In the distance the clatter of hooves echoed tired in the Via Francigena. The hand of the blacksmith stops beating, the frame of the weaver becomes silent, the streets of the tank only a concert ... Read full Blog post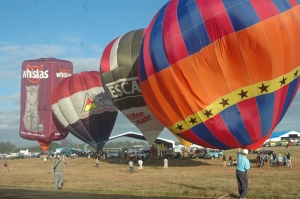 An Aerial fiesta in Clark Pampanga
Its a party in the sky as multi colored hot air balloons piloted ny different pilots from various partso of the world participated in this annual gathering. As early as 5am, the 2,500 hectare aviation complex at Clar Economic Zone in Pampanga was already crammedi with excitement. Clusters of hot air balloon participants busily prepare their own balloons for liftoff as they need to take advantage of ... Read full Blog post