Population: 85,237,338
Dialing Code: +251
Languages: Amarigna 32.7%, Oromigna 31.6%, Tigrigna 6.1%, Somaligna 6%, Guaragigna 3.5%, Sidamigna 3.5%, Hadiyigna 1.7%, other 14.8%, English (major foreign language taught in schools) (1994 census)
Religions: Christian 60.8% (Orthodox 50.6%, Protestant 10.2%), Muslim 32.8%, traditional 4.6%, other 1.8% (1994 census)
Internet TLD: .et
Located: Eastern Africa, west of Somalia
Area: 1,104,300 sq km
Residents with HIV: 980,000
Literacy: 42.7%
Comparative Size: slightly less than twice the size of Texas
Nationality Noun: Ethiopian(s)
Nationality Adjective: Ethiopian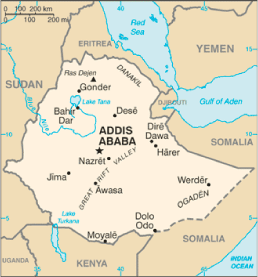 Considered as the Motherland of Humanity, Ethiopia has possibly the oldest settlement in the world for being the home of the earliest humans like Lucy, considered as the oldest, best preserved human fossil in the planet. Although no one knows if the Garden of Eden existed in Ethiopia, this country east of Africa is an Eden in its own right for having some of the continent's most well-maintained national parks and tourist attractions: medieval castles, rock-hewn churches, natural hot springs, and hostile environments.
Ethiopians are proud of their cultural identity as Africa's oldest independent nation and the continent's most bejeweled in terms of World Heritage Sites. They were never colonized so the locals still largely speak Amharic, follow their own 13-month calendar, and sometimes, even become xenophobic. Nonetheless, they are among Africa's most respectful people and are known for treating all people equally. They are particularly famous for their coffee ceremonies as the country is the origin of the coffee bean.
As the world's second oldest Christian nation, Ethiopia is full of medieval marvels such as the rock-hewn churches of Tigray and Lalibela, Lake Tana's centuries-old monasteries, and Gonder's 17th-century castles or "Africa's Camelot." Aksum, Axum Kingdom's former capital, has ancient tombs and soaring obelisks that in their heydays were envied by Egyptian pharaohs. Since the earliest days of Islam, a considerable Muslim minority has thrived in Ethiopia. The country was the first Hijira (migration) site in Islamic history and has the earliest ninth-century Sultanates, the oldest Muslim community in Africa (Negash), and the fourth holiest Muslim city, the ancient walled city of Harar.
A tropical monsoon dominates the Ethiopian air, making adventure a chilly experience especially in elevated areas such as Simien Mountains, Ethiopia's biggest mountain range, known to hikers and wildlife watchers for its precipices and 'bleeding heart' baboons. Faded savannahs, Rift Valley lakes, zebra colonies and rare Abyssinian lions are the safari attractions of another park, Nechisar.
Thousands of avian wonders perform a ballet in the blue bays of Abijatta Shalla, while in the spa town of Sodere, natural hot springs and masseuses provide travelers some relaxation. The usual highlight of the spa experience is a huge campfire providing good opportunity for tourists from around the globe to meet each other and affirm Ethiopia's status as a crossroad between civilizations.