48HourVisit.com

Planning a short visit? Check out

48HourVisit.com

, your online guide for short stays and weekend getaways.

Ad

The Glossary

azmaris - "singer-musicians found in almost all Ethiopian diners and bars"
A UNESCO World Heritage Site, the one-thousand-year-old Lalibela is Africa's "Holy Land," deemed as the "Eighth Wonder of the World" for its 13 medieval rock-hewn churches, crypts and grottos carved into a red volcanic rock. Dubbed "The New Jerusalem," Lalibela is the magnum opus of the eponymous Saint Gebre Mesquel Lalibela, a 12th to 13th-century king of the Zagwe Dynasty who patterned the entire city after Israel's Holy Land.
A major engineering feat, Lalibela's world-renowned monolithic churches are suspended 2,500 meters above sea level and yet are capable of bringing water to the top of the mountain ridge using an artesian well. The town borrowed the look, building names and layout of the old Jerusalem in the hopes of making a new one after Muslims captured the original Holy Land in 1187. The legendary Knights Templar was first believed to have helped build the town, but this was later disproved by archaeologists.
Now the center of Orthodox Christian pilgrimage in Ethiopia, Lalibela is dissected into Northern, Southern, Western, and Eastern groups. The Northern Group consists of Bete Medhane Alem, believed to be the largest monolithic church in the world that houses the Lalibela Cross, one of Ethiopia's most precious historical and religious heirlooms. It is connected to Bete Maryam, believed to be the town's oldest church; the Selassie Chapel, Tomb of Adam, and Bete Golgota, famous for its arts and is said to nestle King Lalibela's tomb. To the south of Bete Maryam is the Bet Dananghel chapel, believed to be built in honor of the nuns martyred on the orders of the 4th-century Roman emperor, Julian.
The star of the Western Group is Bete Giyorgis, the most finely constructed and best preserved church in the area. In the Eastern Group, Bete Amanuel is said to be a former royal chapel, Bete Merkorios is believed to be a former prison, while Bete Gabriel-Rufael is considered a former royal palace. Connected to these are a holy bakery and another church, Bete Abba Libanos. Located far from the churches are the Ashetan Maryam monastery and Yimrehane Kristos church, which was built inside a cave.
Apart from a pilgrimage site, Lalibela has an airport, a large market, a hospital, and two schools. The town is mentioned in Tananarive Due's science-fiction novel, My Soul to Keep, as "the city of priests and rock-hewn churches."
User blogs:
Cheaper galactic spaceliner unveiled
News from http://news.ph.msn.com/top-stories/article.aspx?cp-documentid=3737940 Richard Branson unveiled Monday a commercial spaceliner offering tourists a cheaper chance to experience the thrill of weightlessness and view the splendor of the Earth from space. The British billionaire hopes to offer tickets aboard his spacecraft at a cost of 200,000 dollars each, giving adventurous ... Read full Blog post
Indonesia Eco Tourism
Tour Itenaray Day 01 BALI - LABUAN BAJO – RINCA ISLAND – KOMODO ISLAND (L.D) Pick up from your hotel in Bali and transfer to the airport, for flight to Labuan Bajo (West Flores) for approximately one and half hours. On arrival in Labuan Bajo airport, will be welcomed and met with our local representative or tour guide. Than transfer to the harbour to catch a boat cross to Rinca ... Read full Blog post
San Gimignano and San Pellegrino
Night falls on the flourishing and industrious San Gimignano, its 72 towers stand on the low roofs of the houses lit by the moon. This is not a luxury travel spot but is something you don't see every day. In the distance the clatter of hooves echoed tired in the Via Francigena. The hand of the blacksmith stops beating, the frame of the weaver becomes silent, the streets of the tank only a concert ... Read full Blog post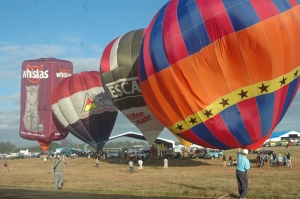 An Aerial fiesta in Clark Pampanga
Its a party in the sky as multi colored hot air balloons piloted ny different pilots from various partso of the world participated in this annual gathering. As early as 5am, the 2,500 hectare aviation complex at Clar Economic Zone in Pampanga was already crammedi with excitement. Clusters of hot air balloon participants busily prepare their own balloons for liftoff as they need to take advantage of ... Read full Blog post