48HourVisit.com

Planning a short visit? Check out

48HourVisit.com

, your online guide for short stays and weekend getaways.

Ad

The Glossary

pronaos - "an entrance hall to the temple leading to the cella."
Egypt is a popular foreign destination for anyone who loves the past, Pharaohs and monuments. And amongst all the destinations in Egypt, Giza stands tallest for the splendor of its pyramids of the highest order. These beautiful stone structures of Giza have survived for around 4500 years. The whole set of pyramids located in Giza are found on the Giza Plateau, which is on the outskirts of Cairo, Egypt.
Tourists can easily locate these ancient monuments which are located approximately 8 kilometres inwards in the desert from the old town of Giza on the Nile. They can also be approached from Cairo from a distance of 25 kilometres southwest of Cairo city centre. These monuments are a connoisseur's delight as they are the only surviving monuments from the list of the Seven Wonders of the Ancient World. The symbolism and design connected with the pyramids of Giza have not only kept the minds of archaeologists and architects busy but even the common man has been swayed by the mysterious spell cast by these magnificent monuments of Egypt's past glory.
Giza along with a number of other ancient sites is considered as a World Heritage Site and thus is an important part of our cultural wealth. Get lost in the Pyramid's structures and you can spend an endless numbers of hours trying to solve the mysteries of the past, while paying respect to the departed Pharaohs of the past. You can also study the tombs of the high and mighty of ancient Egypt.
The pyramids basically consists of the Pyramid of Khufu, the Pyramid of Khafre (a little to the south-west in direction) and the smaller sized Pyramid of Menkaure (further to the south-west). These exotic structures are also accompanied by other edifices which are know as "queens" pyramids, causeways and valley pyramids. But how can we forget the Great Sphinx. This monument has truly very few rivals when we try to recollect some of the inspiring monuments of the past. It is located on the eastern side of the Pyramid's complex and faces the East. Expert Egyptologists consider the head of the Great Sphinx to be that of Khafre. The stones used in constructing these pyramids can be admired along with all the hard work and planning put in by its makers. Although the pyramids look isolated due to the various ways they have been represented in paintings, they are located very close to areas which are considered as populated areas in Egypt.
User blogs:
Cheaper galactic spaceliner unveiled
News from http://news.ph.msn.com/top-stories/article.aspx?cp-documentid=3737940 Richard Branson unveiled Monday a commercial spaceliner offering tourists a cheaper chance to experience the thrill of weightlessness and view the splendor of the Earth from space. The British billionaire hopes to offer tickets aboard his spacecraft at a cost of 200,000 dollars each, giving adventurous ... Read full Blog post
Indonesia Eco Tourism
Tour Itenaray Day 01 BALI - LABUAN BAJO – RINCA ISLAND – KOMODO ISLAND (L.D) Pick up from your hotel in Bali and transfer to the airport, for flight to Labuan Bajo (West Flores) for approximately one and half hours. On arrival in Labuan Bajo airport, will be welcomed and met with our local representative or tour guide. Than transfer to the harbour to catch a boat cross to Rinca ... Read full Blog post
San Gimignano and San Pellegrino
Night falls on the flourishing and industrious San Gimignano, its 72 towers stand on the low roofs of the houses lit by the moon. This is not a luxury travel spot but is something you don't see every day. In the distance the clatter of hooves echoed tired in the Via Francigena. The hand of the blacksmith stops beating, the frame of the weaver becomes silent, the streets of the tank only a concert ... Read full Blog post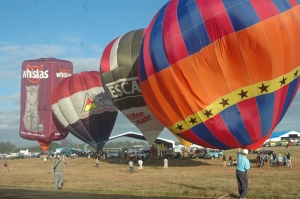 An Aerial fiesta in Clark Pampanga
Its a party in the sky as multi colored hot air balloons piloted ny different pilots from various partso of the world participated in this annual gathering. As early as 5am, the 2,500 hectare aviation complex at Clar Economic Zone in Pampanga was already crammedi with excitement. Clusters of hot air balloon participants busily prepare their own balloons for liftoff as they need to take advantage of ... Read full Blog post