48HourVisit.com

Planning a short visit? Check out

48HourVisit.com

, your online guide for short stays and weekend getaways.

Ad

The Glossary

Ksar - "a walled village in Algeria."
As opposed to the French vibe of Annaba, Djanet's aura is that of an English countryside as its streets are lined with golden streetlamps and clustered whitewashed villages, giving no space for the urbanized buildings and structures the Algerian government wants to build.
With its lush setting, visitors of Djanet often forget that the oasis is at the heart of a desert. For those who intend to stay here for a day or two, they can set camp in one of the traditional huts.
Among the places of interest includes the rock paintings of the native Tassili N'Ajjer at the Tassili N'Ajjer National Park, a designated World Heritage Site visited annually by tourists and art enthusiasts from Paris, France. There is also the old-world Ksar Azellouaz, which serves as a home to the first settlers of Djanet. Though much of the building is ruined and crumbling, the overall view is still considered striking.
The Musee du Tassili, which houses a vast collection of the town's artifacts, is another tourist draw. Here, culture and history buffs usually marvel at the well-preserved animal and plant life on display such as sheep skulls, gazelles, and huge ostrich eggs. Photos of the Tassili N'Ajjer people's rock paintings fill a whole gallery in the museum.
User blogs:
Cheaper galactic spaceliner unveiled
News from http://news.ph.msn.com/top-stories/article.aspx?cp-documentid=3737940 Richard Branson unveiled Monday a commercial spaceliner offering tourists a cheaper chance to experience the thrill of weightlessness and view the splendor of the Earth from space. The British billionaire hopes to offer tickets aboard his spacecraft at a cost of 200,000 dollars each, giving adventurous ... Read full Blog post
Indonesia Eco Tourism
Tour Itenaray Day 01 BALI - LABUAN BAJO – RINCA ISLAND – KOMODO ISLAND (L.D) Pick up from your hotel in Bali and transfer to the airport, for flight to Labuan Bajo (West Flores) for approximately one and half hours. On arrival in Labuan Bajo airport, will be welcomed and met with our local representative or tour guide. Than transfer to the harbour to catch a boat cross to Rinca ... Read full Blog post
San Gimignano and San Pellegrino
Night falls on the flourishing and industrious San Gimignano, its 72 towers stand on the low roofs of the houses lit by the moon. This is not a luxury travel spot but is something you don't see every day. In the distance the clatter of hooves echoed tired in the Via Francigena. The hand of the blacksmith stops beating, the frame of the weaver becomes silent, the streets of the tank only a concert ... Read full Blog post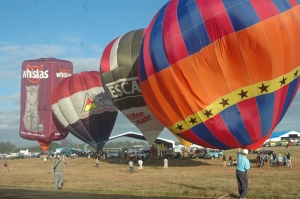 An Aerial fiesta in Clark Pampanga
Its a party in the sky as multi colored hot air balloons piloted ny different pilots from various partso of the world participated in this annual gathering. As early as 5am, the 2,500 hectare aviation complex at Clar Economic Zone in Pampanga was already crammedi with excitement. Clusters of hot air balloon participants busily prepare their own balloons for liftoff as they need to take advantage of ... Read full Blog post