48HourVisit.com

Planning a short visit? Check out

48HourVisit.com

, your online guide for short stays and weekend getaways.

Ad

The Glossary

casbah - "a walled citadel or fortress in Algeria and of many North African cities and town, also called a traditional clustered unit."
Though not set in Europe, much of Annaba's atmosphere is that of France: the influence, the façade and the scene are indeed reflections of France. The third largest city in Algeria, Annaba, served as a seaport and an industrial shipping center of the country in the business realm and a leisure playground of holiday makers looking for some tranquil vacation in some European destinations but without the excess cash to manage it.
Visitors who choose to linger here for a day or two can have a stroll along the Green Main Street or the reputed Cours de la Revolution down to the ruined city of Hippos Regius where nestles the panoramic Basilica of St. Augustine, reminiscent of the Sacre Coeur in Paris. The pleasant atmosphere makes it an ideal venue for afternoon picnics and early family affairs like dinner or a good coffee conversation. The Basilica of St. Augustine is also a haven to Catholic pilgrims who just want to see St. Augustine's right arm lying next to his statue.
Other worthwhile sites to visit include the Bey's Mosque and the Sidi Bou Merouane which can be reached on foot. Most of the stones and columns used in constructing this 11th century mosque had been from the ruins of the Hippo Regius.
Those who can no longer stand the heat of the sun can head to the spit of Annaba's Mediterranean coastline to cool off or have a detour downtown to try some ice-cream sold in some of the local cafes lining the main street. There are also a lot of restaurants and clubs around the area where visitors can chill out during the evening.
In addition, couples with children can head to the amusement park of Les Allemends to give their kids some time to relax after the enervating sightseeing schedule of the day.
User blogs:
Cheaper galactic spaceliner unveiled
News from http://news.ph.msn.com/top-stories/article.aspx?cp-documentid=3737940 Richard Branson unveiled Monday a commercial spaceliner offering tourists a cheaper chance to experience the thrill of weightlessness and view the splendor of the Earth from space. The British billionaire hopes to offer tickets aboard his spacecraft at a cost of 200,000 dollars each, giving adventurous ... Read full Blog post
Indonesia Eco Tourism
Tour Itenaray Day 01 BALI - LABUAN BAJO – RINCA ISLAND – KOMODO ISLAND (L.D) Pick up from your hotel in Bali and transfer to the airport, for flight to Labuan Bajo (West Flores) for approximately one and half hours. On arrival in Labuan Bajo airport, will be welcomed and met with our local representative or tour guide. Than transfer to the harbour to catch a boat cross to Rinca ... Read full Blog post
San Gimignano and San Pellegrino
Night falls on the flourishing and industrious San Gimignano, its 72 towers stand on the low roofs of the houses lit by the moon. This is not a luxury travel spot but is something you don't see every day. In the distance the clatter of hooves echoed tired in the Via Francigena. The hand of the blacksmith stops beating, the frame of the weaver becomes silent, the streets of the tank only a concert ... Read full Blog post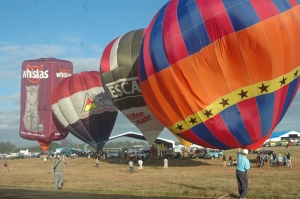 An Aerial fiesta in Clark Pampanga
Its a party in the sky as multi colored hot air balloons piloted ny different pilots from various partso of the world participated in this annual gathering. As early as 5am, the 2,500 hectare aviation complex at Clar Economic Zone in Pampanga was already crammedi with excitement. Clusters of hot air balloon participants busily prepare their own balloons for liftoff as they need to take advantage of ... Read full Blog post