48HourVisit.com

Planning a short visit? Check out

48HourVisit.com

, your online guide for short stays and weekend getaways.

Ad

The Glossary

Nonla - "The Vietnamese conical straw hat."
Ho Chi Minh Travel Guide

/
Asia
/
Vietnam
/
Ho Chi Minh
/ Introduction
Vietnam's largest city, Ho Chi Minh, has retained its commercial glory for centuries. Still referred to as "Saigon" by locals, the former capital balances the nation's eventful past with a promising future. Extravagant restaurants, hotels, and night clubs are contrasted by buildings designed with Chinese, European, and Vietnamese influences.
Historical Former Capital
Saigon's glory began when Chinese, Japanese, and European merchants would travel to the Saigon River for trade. It became the largest city of Indochina when Co Lon joined Saigon in 1874. The French even called the city "the Pearl of the Far East" or the "Paris in the Orient."
The most disputed part of its history happened on April 30, 1975, when it fell in the hands of the Vietnamese People's Army. The communist Socialist Republic of Vietnam refers to the event as the "Liberation of Saigon," while the US call it the "Fall of Saigon." The year after, it was combined with two other province districts, and renamed as Ho Chi Minh City.
Vietnam's final struggle with independence is preserved in the Reunification Palace which symbolizes the reunion of the Northern and Southern divisions. The palace was the South Vietnamese government's symbol until the Northern Communists had won the war against the Americans.
Cultural Convergence
Despite its violent struggles in the past, Ho Chi Minh is home to a peaceful coexistence between Western and Eastern cultures. The city is home to many immigrants and expats, who can't help but call Saigon home. Various structures are reminiscent of the country's colonial past under the French and its ordeal under the Americans. Vietnam's Asian origins are seen in the National Ancestors Temple (Quoc To Temple) and the Nha Rong (Dragon House Wharf).
Ho Chi Minh Landmarks:
Ho Chi Minh Traveler Advice
User blogs:
Cheaper galactic spaceliner unveiled
News from http://news.ph.msn.com/top-stories/article.aspx?cp-documentid=3737940 Richard Branson unveiled Monday a commercial spaceliner offering tourists a cheaper chance to experience the thrill of weightlessness and view the splendor of the Earth from space. The British billionaire hopes to offer tickets aboard his spacecraft at a cost of 200,000 dollars each, giving adventurous ... Read full Blog post
Indonesia Eco Tourism
Tour Itenaray Day 01 BALI - LABUAN BAJO – RINCA ISLAND – KOMODO ISLAND (L.D) Pick up from your hotel in Bali and transfer to the airport, for flight to Labuan Bajo (West Flores) for approximately one and half hours. On arrival in Labuan Bajo airport, will be welcomed and met with our local representative or tour guide. Than transfer to the harbour to catch a boat cross to Rinca ... Read full Blog post
San Gimignano and San Pellegrino
Night falls on the flourishing and industrious San Gimignano, its 72 towers stand on the low roofs of the houses lit by the moon. This is not a luxury travel spot but is something you don't see every day. In the distance the clatter of hooves echoed tired in the Via Francigena. The hand of the blacksmith stops beating, the frame of the weaver becomes silent, the streets of the tank only a concert ... Read full Blog post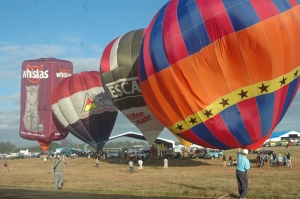 An Aerial fiesta in Clark Pampanga
Its a party in the sky as multi colored hot air balloons piloted ny different pilots from various partso of the world participated in this annual gathering. As early as 5am, the 2,500 hectare aviation complex at Clar Economic Zone in Pampanga was already crammedi with excitement. Clusters of hot air balloon participants busily prepare their own balloons for liftoff as they need to take advantage of ... Read full Blog post