48HourVisit.com

Planning a short visit? Check out

48HourVisit.com

, your online guide for short stays and weekend getaways.

Ad

The Glossary

Nuoc Mam - "Fish sauce."
Caught between Eastern and Western influences, Vietnam's capital is home to structures echoing back to French and Chinese invasions. Hanoi has retained its title as capital for several centuries, referred to as Tong Binh in 1408 and renamed as Le Thai twenty years after. Its current name was given by the Nguyen Dynasty. After the North claimed victory over the South, Hanoi became Vietnam's capital during the 1975 reunification.
Historical Impressions
The beauty of French architecture and the elegance of ancient Vietnamese dynasties are retained in Hanoi's historical monuments. The distinct cultural influence of France is seen in the Grand Opera House, the State Bank of Vietnam and the Presidential Palace. Visitors after Vietnam's Southeast Asian influences have more than 600 pagodas and temples to visit. This large number proves the city is truly Vietnam's cultural center.
Hanoi's cultural heritage preserves its beginnings in the Old Quarter, which has lasted for over 2000 years. The Old Quarter's 36 streets are known for selling a variety of crafts, including gift wrappings, embroidery products, religious objects, and even herbal medicines.
City of Lakes
The most relaxing views of the city are found in its lakes, the most popular being the Hoan Kiem Lake and the West Lake. The West Lake is surrounded by several temples and offers small boats for visitors to ride around the area. Hoan Kiem Lake is frequented by the city's locals, perfect for observing the Vietnamese as they do their morning tai chi.
Modern Entertainment
Although known for its cultural and historical sites, Hanoi's moves forward with its many entertainment establishments. Tourists can keep themselves busy at night in the city's karaoke bars, dance clubs, and cinemas. It is also a renowned shopping location, having made the top 10 cities for shopping in Asia according to Smart Travel Asia.
Hanoi Traveler Advice
Hanoi photography
Family hotel in hanoi by
annathao08
User blogs:
Cheaper galactic spaceliner unveiled
News from http://news.ph.msn.com/top-stories/article.aspx?cp-documentid=3737940 Richard Branson unveiled Monday a commercial spaceliner offering tourists a cheaper chance to experience the thrill of weightlessness and view the splendor of the Earth from space. The British billionaire hopes to offer tickets aboard his spacecraft at a cost of 200,000 dollars each, giving adventurous ... Read full Blog post
Indonesia Eco Tourism
Tour Itenaray Day 01 BALI - LABUAN BAJO – RINCA ISLAND – KOMODO ISLAND (L.D) Pick up from your hotel in Bali and transfer to the airport, for flight to Labuan Bajo (West Flores) for approximately one and half hours. On arrival in Labuan Bajo airport, will be welcomed and met with our local representative or tour guide. Than transfer to the harbour to catch a boat cross to Rinca ... Read full Blog post
San Gimignano and San Pellegrino
Night falls on the flourishing and industrious San Gimignano, its 72 towers stand on the low roofs of the houses lit by the moon. This is not a luxury travel spot but is something you don't see every day. In the distance the clatter of hooves echoed tired in the Via Francigena. The hand of the blacksmith stops beating, the frame of the weaver becomes silent, the streets of the tank only a concert ... Read full Blog post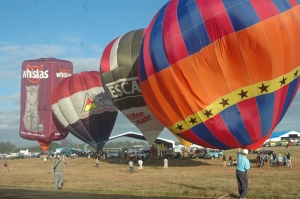 An Aerial fiesta in Clark Pampanga
Its a party in the sky as multi colored hot air balloons piloted ny different pilots from various partso of the world participated in this annual gathering. As early as 5am, the 2,500 hectare aviation complex at Clar Economic Zone in Pampanga was already crammedi with excitement. Clusters of hot air balloon participants busily prepare their own balloons for liftoff as they need to take advantage of ... Read full Blog post