48HourVisit.com

Planning a short visit? Check out

48HourVisit.com

, your online guide for short stays and weekend getaways.

Ad

The Glossary

Ao Dai - "The body-hugging traditional garb for Vietnamese women, rather reminiscent to the Chinese cheongsam."
Situated in Vietnam's northern frontier, Chau Doc is an ideal springboard to those who want to explore the neighboring Cambodia or the rest of the An Giang province. Like most border towns, quaint Chau Doc exudes a very busy yet warm atmosphere and is home to a hefty number of Chinese, Cham, and Khmer communities. Lucky for visitors, the expatriates have brought with them a piece of their own countries incorporated into the vernacular culture. Tourists can go boat-riding to the nearby communities and get to know a bit of each culture, and afterwards head to the waterfront and check out the spectacular orange sunset.
Arguably the town's highlight is the nearby Sam Mountain which offers an excellent view of Vietnam and Cambodia. Considered by some as sacred, the mountain's base features shrines that show off opulent design, such as the brightly-painted Tay An Pagoda and the Ba Chua Xu Temple, that latter taking pride on having the largest monument in the area.
Those who aren't fit for the rough climb can settle for the nearby shrines, such as the Chau Giang Mosque in Chau Giang, a ferry-ride away from town. One can witness children learn the Koran in Mubarak Mosque, also located across the river, which is closed to Non-Muslim tourists during the time of prayer. The Chau Phu Temple, on the other hand, displays the distinct blend of Chinese and Vietnamese architecture, as well as funeral tablets of the deceased devotees.
Chau Doc Landmarks:
User blogs:
Cheaper galactic spaceliner unveiled
News from http://news.ph.msn.com/top-stories/article.aspx?cp-documentid=3737940 Richard Branson unveiled Monday a commercial spaceliner offering tourists a cheaper chance to experience the thrill of weightlessness and view the splendor of the Earth from space. The British billionaire hopes to offer tickets aboard his spacecraft at a cost of 200,000 dollars each, giving adventurous ... Read full Blog post
Indonesia Eco Tourism
Tour Itenaray Day 01 BALI - LABUAN BAJO – RINCA ISLAND – KOMODO ISLAND (L.D) Pick up from your hotel in Bali and transfer to the airport, for flight to Labuan Bajo (West Flores) for approximately one and half hours. On arrival in Labuan Bajo airport, will be welcomed and met with our local representative or tour guide. Than transfer to the harbour to catch a boat cross to Rinca ... Read full Blog post
San Gimignano and San Pellegrino
Night falls on the flourishing and industrious San Gimignano, its 72 towers stand on the low roofs of the houses lit by the moon. This is not a luxury travel spot but is something you don't see every day. In the distance the clatter of hooves echoed tired in the Via Francigena. The hand of the blacksmith stops beating, the frame of the weaver becomes silent, the streets of the tank only a concert ... Read full Blog post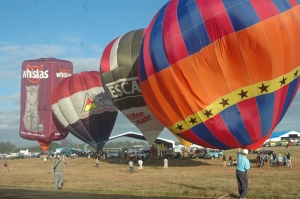 An Aerial fiesta in Clark Pampanga
Its a party in the sky as multi colored hot air balloons piloted ny different pilots from various partso of the world participated in this annual gathering. As early as 5am, the 2,500 hectare aviation complex at Clar Economic Zone in Pampanga was already crammedi with excitement. Clusters of hot air balloon participants busily prepare their own balloons for liftoff as they need to take advantage of ... Read full Blog post