48HourVisit.com

Planning a short visit? Check out

48HourVisit.com

, your online guide for short stays and weekend getaways.

Ad

The Glossary

Sampan - "A flat-bottomed wooden boat of Chinese origins."
Central Vietnam Travel Guide

/
Asia
/
Vietnam
/
Central Vietnam
/ Introduction
From the spectacular beach escapes and historical cities to the mouth-watering Vietnamese cuisine, Central Vietnam offers a country's worth of experience in one region. A vacation in the country would be incomplete without a stopover at any of the numerous tourist attractions that can be found in the region, notably the three of UNESCO World Heritage Sites. Ideal pit stops after a trek to the nearby mountain ranges, the towns exude a relaxed, rustic feel that invites tourists to stay at the many lodging options and have a taste of the local food.
Fortunately for tourists, Central Vietnam is easily accessed via Danang airport, which readily features a tourist attraction. Formerly known as Faifo, the UNESCO World Heritage Site Hoi An used to be a trading port in the 16th to 17th centuries. The city's foreign influences are still very much alive, evident in the bold Chinese-style architecture and the variety of goods sold in the marketplaces.
Tucked within the jungles southwest of Hoi An is another UNESCO-recognized site: My Son Sanctuary. It depicts the rich blend of Vietnamese and Indian cultures and is also considered one of the best-preserved remains of the Champa kingdom. In the northeast, one can find Vietnam's last item on UNESCO's list, the former imperial capital of Hue, which has retained the majesty of a fallen kingdom, as seen in the intact statues and temples around the town. Hue also takes pride on serving up some of the country's best-tasting local cuisine, to put a finishing touch to a very satisfactory trip.
A visit to the region would be incomplete without stopping by the iconic China Beach, a 35 km. sliver of white sand and clean waters. During the Vietnam War, US GIs used to go to these shores to relax and enjoy the tropical sun. Journeying farther away from the eastern coasts, one will come across the lush forests and challenging terrain that backpackers and avid trekkers will enjoy. A popular choice is the Bach Ma National Park, one of the country's largest. This conservation facility is recognized around Asia for having over a thousand species of flora and fauna, such as the endemic Edward's pheasant, the Saola, and the Bach Ma pine. Spending a day around the park will be enjoyable and easy as there are lodgings in the vicinity.
Central Vietnam Landmarks:
User blogs:
Cheaper galactic spaceliner unveiled
News from http://news.ph.msn.com/top-stories/article.aspx?cp-documentid=3737940 Richard Branson unveiled Monday a commercial spaceliner offering tourists a cheaper chance to experience the thrill of weightlessness and view the splendor of the Earth from space. The British billionaire hopes to offer tickets aboard his spacecraft at a cost of 200,000 dollars each, giving adventurous ... Read full Blog post
Indonesia Eco Tourism
Tour Itenaray Day 01 BALI - LABUAN BAJO – RINCA ISLAND – KOMODO ISLAND (L.D) Pick up from your hotel in Bali and transfer to the airport, for flight to Labuan Bajo (West Flores) for approximately one and half hours. On arrival in Labuan Bajo airport, will be welcomed and met with our local representative or tour guide. Than transfer to the harbour to catch a boat cross to Rinca ... Read full Blog post
San Gimignano and San Pellegrino
Night falls on the flourishing and industrious San Gimignano, its 72 towers stand on the low roofs of the houses lit by the moon. This is not a luxury travel spot but is something you don't see every day. In the distance the clatter of hooves echoed tired in the Via Francigena. The hand of the blacksmith stops beating, the frame of the weaver becomes silent, the streets of the tank only a concert ... Read full Blog post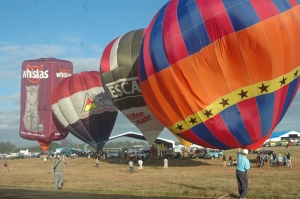 An Aerial fiesta in Clark Pampanga
Its a party in the sky as multi colored hot air balloons piloted ny different pilots from various partso of the world participated in this annual gathering. As early as 5am, the 2,500 hectare aviation complex at Clar Economic Zone in Pampanga was already crammedi with excitement. Clusters of hot air balloon participants busily prepare their own balloons for liftoff as they need to take advantage of ... Read full Blog post