48HourVisit.com

Planning a short visit? Check out

48HourVisit.com

, your online guide for short stays and weekend getaways.

Ad
Elevated at more than 3,000 meters above sea level, Lhasa or Lasa is the highest city and capital in the world. Despite its height, the "heart" of Tibet receives over 3,000 hours of sunshine annually, making it earn the titles "solar city" and "city of sunshine."
True to its meaning as "Place of the gods" or "Holy Land," Lhasa is the birthplace of Tibetan Buddhism and the seat of the Dalai Lama. As such, it boasts of many monasteries that lend it a divine ambience.
Grandiose palaces, temples and monasteries
Amid the city's many monasteries, however, Lhasa's crown jewel is the 1,300-year-old Potala Palace, the world's highest palace as it is sited on an altitude as high as Japan's Mt. Fuji. A World Heritage Site, Potala has about 200,000 sculptures, 10,000 shrines, and 1,000 rooms. It served as the residence of the Dalai Lamas.
The world's former biggest and second-largest monasteries, Lhasa's Drepung and Sera Monasteries, remain as centers of Tibetan Buddhism where monks meditate, debate, print scriptures, and chant tantras. The largest Yellow Hat sect monastery, Tashilumpo Monastery, founded in 1447, has its gold roof still aglitter with the same sheen it had 500 years ago.
In Lhasa's old district lies Tibet's most revered shrine, the World Heritage-listed Jokhang Temple, a fine blend of 7th-century Indian and Nepalese architecture. A willow tree that a Buddhist princess planted in 674 AD still stands near the shrine. In Shannan Region, Tibet's first temple, Samye Monastery, still has the beauty of the architecture encompassing that of the Han Chinese, Indian and the Tibetan styles.
Shopping
Lhasa's oldest street, Barkhor Street, is also the city's religious and trading center. Called the "window to Tibet," Barkhor is lined with traditional Tibetan buildings and populated by locals selling odds and ends like yak butter, Nepalese biscuits, juniper incense, block print scriptures, prayer flags, turquoise jewelry, and colorful Tibetan costumes and carpets.
During daytime, Lhasa's teahouses dabble as restaurants offering pocha (butter tea). At night, Lhasa gets its energy from Tibetan opera houses and karaoke bars serving Chang or home-brewed barley beer.
Lhasa Landmarks:
Lhasa Traveler Advice
User blogs:
Cheaper galactic spaceliner unveiled
News from http://news.ph.msn.com/top-stories/article.aspx?cp-documentid=3737940 Richard Branson unveiled Monday a commercial spaceliner offering tourists a cheaper chance to experience the thrill of weightlessness and view the splendor of the Earth from space. The British billionaire hopes to offer tickets aboard his spacecraft at a cost of 200,000 dollars each, giving adventurous ... Read full Blog post
Indonesia Eco Tourism
Tour Itenaray Day 01 BALI - LABUAN BAJO – RINCA ISLAND – KOMODO ISLAND (L.D) Pick up from your hotel in Bali and transfer to the airport, for flight to Labuan Bajo (West Flores) for approximately one and half hours. On arrival in Labuan Bajo airport, will be welcomed and met with our local representative or tour guide. Than transfer to the harbour to catch a boat cross to Rinca ... Read full Blog post
San Gimignano and San Pellegrino
Night falls on the flourishing and industrious San Gimignano, its 72 towers stand on the low roofs of the houses lit by the moon. This is not a luxury travel spot but is something you don't see every day. In the distance the clatter of hooves echoed tired in the Via Francigena. The hand of the blacksmith stops beating, the frame of the weaver becomes silent, the streets of the tank only a concert ... Read full Blog post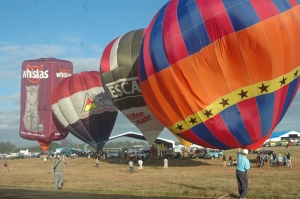 An Aerial fiesta in Clark Pampanga
Its a party in the sky as multi colored hot air balloons piloted ny different pilots from various partso of the world participated in this annual gathering. As early as 5am, the 2,500 hectare aviation complex at Clar Economic Zone in Pampanga was already crammedi with excitement. Clusters of hot air balloon participants busily prepare their own balloons for liftoff as they need to take advantage of ... Read full Blog post