48HourVisit.com

Planning a short visit? Check out

48HourVisit.com

, your online guide for short stays and weekend getaways.

Ad

The Glossary

Nam Pla - "a kind of Thai fish sauce that is known for its very strong aroma and taste."
Chiang Dao Travel Guide

/
Asia
/
Thailand
/
Chiang Dao
/ Introduction
Referred to as the "Little Tuscany" (reference to Italy's famous wine city) because of its many local wineries, the town of Chiang Dao in northern Thailand nonetheless asserts its stunning mountainous landscape more than its intoxicating products. Boasting of the majestic Doi Chiang Chao, the highest limestone peaks in the country, it is definitely a place one might call a trekker's paradise. Because of its picturesque scenery and a one-of-a-kind opportunity to mingle with nomadic hill tribe people, Chiang Dao somehow transcends its shortcomings in modern development.
The city is also famous for its ancient cave complexes, where one can find sacred shrines which once served as the end point to the pilgrimage monks undertook. Within the caves, they prayed and meditated in seclusion. Amazing tours through the many deep and dark caverns and passages riddled with the fascinating forms of stalactites and stalagmites are available for a fee.
The landscape surrounding the caves is considered to be the most beautiful anywhere in the northern region. Hence, it was declared as a protected preserve area as the Chiang Dao National Park. Featuring a rugged terrain, unique fauna, lush bamboo forests, mighty waterfalls and crystal-clear streams, Chiang Dao is a big slice of adventure heaven ideal for hiking, camping, backpacking, rock-climbing and elephant riding. Mae Tang River, on the other hand, offers kayaking and rafting opportunities, or just the chance to lazily lie on its lush banks.
User blogs:
Cheaper galactic spaceliner unveiled
News from http://news.ph.msn.com/top-stories/article.aspx?cp-documentid=3737940 Richard Branson unveiled Monday a commercial spaceliner offering tourists a cheaper chance to experience the thrill of weightlessness and view the splendor of the Earth from space. The British billionaire hopes to offer tickets aboard his spacecraft at a cost of 200,000 dollars each, giving adventurous ... Read full Blog post
Indonesia Eco Tourism
Tour Itenaray Day 01 BALI - LABUAN BAJO – RINCA ISLAND – KOMODO ISLAND (L.D) Pick up from your hotel in Bali and transfer to the airport, for flight to Labuan Bajo (West Flores) for approximately one and half hours. On arrival in Labuan Bajo airport, will be welcomed and met with our local representative or tour guide. Than transfer to the harbour to catch a boat cross to Rinca ... Read full Blog post
San Gimignano and San Pellegrino
Night falls on the flourishing and industrious San Gimignano, its 72 towers stand on the low roofs of the houses lit by the moon. This is not a luxury travel spot but is something you don't see every day. In the distance the clatter of hooves echoed tired in the Via Francigena. The hand of the blacksmith stops beating, the frame of the weaver becomes silent, the streets of the tank only a concert ... Read full Blog post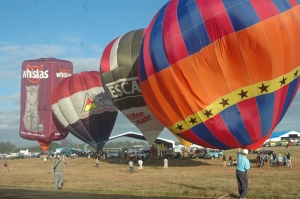 An Aerial fiesta in Clark Pampanga
Its a party in the sky as multi colored hot air balloons piloted ny different pilots from various partso of the world participated in this annual gathering. As early as 5am, the 2,500 hectare aviation complex at Clar Economic Zone in Pampanga was already crammedi with excitement. Clusters of hot air balloon participants busily prepare their own balloons for liftoff as they need to take advantage of ... Read full Blog post