48HourVisit.com

Planning a short visit? Check out

48HourVisit.com

, your online guide for short stays and weekend getaways.

Ad

The Glossary

Hat - "Thai-speak for beach."
Ban Chiang Travel Guide

/
Asia
/
Thailand
/
Ban Chiang
/ Introduction
Touted by UNESCO as the foremost prehistoric settlement in Southeast Asia, the archaeological site of Ban Chiang in Thailand's Udon Thani Province is famous for its rich cultural and historical heritage. Declared as a World Heritage Site in 1992, it is an ancient burial ground containing millions of pottery artifacts and skeletons of the primitive humans. The people who once inhabited this place left evidence of an early form of agriculture and knowledge of bronze metallurgy. It is widely believed that the relics they left behind date back to 5,000-7,000 years ago.
Discovered in 1966, it would probably never have turned up in history if not for one of the freakiest accidents. While working on his thesis, Stephen Young, who was then a student of anthropology from Harvard, tripped himself over a protruding tree root and landed on his face - incredibly right in front of the exposed rim of a buried piece of pottery. Eight years after, a massive excavation project started with the goal of unearthing the vast trove of ancient treasures that are hidden in the ground.
At present, most of the excavated artifacts are displayed in the prominent Ban Chiang National Museum, including a plethora of pottery relics that were made in the distinctive "Ban Chiang Ceramic Tradition." The style is mostly typified by burnt-ochre swirl designs, S-shaped curves and swirling incisions. Apart from these, one can also see preserved skeletons and a horde of bronze tools such as axes, sickles, chisels, fish hooks, spearheads and ladles just to name a few. Anyone who visits the place is imbued with a sense of curiosity and reverence.
Ban Chiang Landmarks:
User blogs:
Cheaper galactic spaceliner unveiled
News from http://news.ph.msn.com/top-stories/article.aspx?cp-documentid=3737940 Richard Branson unveiled Monday a commercial spaceliner offering tourists a cheaper chance to experience the thrill of weightlessness and view the splendor of the Earth from space. The British billionaire hopes to offer tickets aboard his spacecraft at a cost of 200,000 dollars each, giving adventurous ... Read full Blog post
Indonesia Eco Tourism
Tour Itenaray Day 01 BALI - LABUAN BAJO – RINCA ISLAND – KOMODO ISLAND (L.D) Pick up from your hotel in Bali and transfer to the airport, for flight to Labuan Bajo (West Flores) for approximately one and half hours. On arrival in Labuan Bajo airport, will be welcomed and met with our local representative or tour guide. Than transfer to the harbour to catch a boat cross to Rinca ... Read full Blog post
San Gimignano and San Pellegrino
Night falls on the flourishing and industrious San Gimignano, its 72 towers stand on the low roofs of the houses lit by the moon. This is not a luxury travel spot but is something you don't see every day. In the distance the clatter of hooves echoed tired in the Via Francigena. The hand of the blacksmith stops beating, the frame of the weaver becomes silent, the streets of the tank only a concert ... Read full Blog post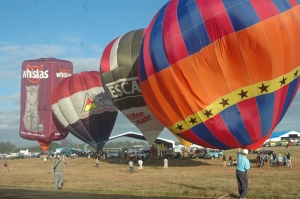 An Aerial fiesta in Clark Pampanga
Its a party in the sky as multi colored hot air balloons piloted ny different pilots from various partso of the world participated in this annual gathering. As early as 5am, the 2,500 hectare aviation complex at Clar Economic Zone in Pampanga was already crammedi with excitement. Clusters of hot air balloon participants busily prepare their own balloons for liftoff as they need to take advantage of ... Read full Blog post