48HourVisit.com

Planning a short visit? Check out

48HourVisit.com

, your online guide for short stays and weekend getaways.

Ad

The Glossary

Wat - "a word which means temple."
Ayuttha Historical Park Travel Guide

/
Asia
/
Thailand
/
Ayuttha Historical Park
/ Introduction
Once the undisputed capital of Thailand that lasted for over 417 years, the old city of Ayutthaya is widely considered as the most historical destination anywhere in the country. Featuring an immense population of majestic ancient temples, palaces and many more archaeological sites, it stands as a testament to the land's rich cultural and historical heritage. A paradise for the history buffs, it is a markedly different attraction as compared to the other cities of the country that are awash in entertainment and nightlife adventures. Representing splendor and glory at their finest, it is a recommended sight for any traveler.
Established by King Ramathibodi I in 1350, it served as the center of the Ayutthaya Kingdom during its heyday, until it was devastated by the invading Burmese armies in 1767. With its plethora of significant 14th century infrastructure remnants, it was rightfully inscribed as a UNESCO World Heritage Site in 1991 and is now preserved as the Ayutthaya Historical Park. Probably the most awe-inspiring sight to see is the Wat Phra Si Sanphet - a picturesque temple reputed to be the largest in the whole area. It is said to have housed a 16-meter high statue of Buddha that was made with gold. There is also the Wat Chaiwatthanaram - a Khmer-inspired piece of architecture in the mold of the famous Angkor Wat, and is usually the most photographed attraction there. One can locate the imposing Old Palace, which had served as the seat of power for King Ramathibodi I that had since been converted into a monastery. The landscape is dotted with numerous museums and parks at almost every turn. With a wealth of wonders to see and explore in Ayutthaya, tourists will continue to be enthralled for centuries to come.
User blogs:
Cheaper galactic spaceliner unveiled
News from http://news.ph.msn.com/top-stories/article.aspx?cp-documentid=3737940 Richard Branson unveiled Monday a commercial spaceliner offering tourists a cheaper chance to experience the thrill of weightlessness and view the splendor of the Earth from space. The British billionaire hopes to offer tickets aboard his spacecraft at a cost of 200,000 dollars each, giving adventurous ... Read full Blog post
Indonesia Eco Tourism
Tour Itenaray Day 01 BALI - LABUAN BAJO – RINCA ISLAND – KOMODO ISLAND (L.D) Pick up from your hotel in Bali and transfer to the airport, for flight to Labuan Bajo (West Flores) for approximately one and half hours. On arrival in Labuan Bajo airport, will be welcomed and met with our local representative or tour guide. Than transfer to the harbour to catch a boat cross to Rinca ... Read full Blog post
San Gimignano and San Pellegrino
Night falls on the flourishing and industrious San Gimignano, its 72 towers stand on the low roofs of the houses lit by the moon. This is not a luxury travel spot but is something you don't see every day. In the distance the clatter of hooves echoed tired in the Via Francigena. The hand of the blacksmith stops beating, the frame of the weaver becomes silent, the streets of the tank only a concert ... Read full Blog post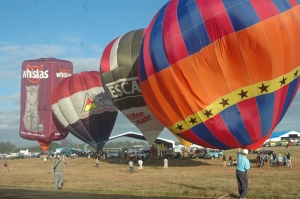 An Aerial fiesta in Clark Pampanga
Its a party in the sky as multi colored hot air balloons piloted ny different pilots from various partso of the world participated in this annual gathering. As early as 5am, the 2,500 hectare aviation complex at Clar Economic Zone in Pampanga was already crammedi with excitement. Clusters of hot air balloon participants busily prepare their own balloons for liftoff as they need to take advantage of ... Read full Blog post