48HourVisit.com

Planning a short visit? Check out

48HourVisit.com

, your online guide for short stays and weekend getaways.

Ad

The Glossary

Hat - "Thai-speak for beach."
Andaman Coast Travel Guide

/
Asia
/
Thailand
/
Andaman Coast
/ Introduction
One of the most strikingly beautiful landscapes in Thailand, the Andaman Coast in its south region is one of the country's most visited. Boasting of some of the best attractions, the coast is the abode of resort islands offering exciting activities, wild parties and leisurely options. Though it was devastated in 2004 by the Indian Ocean tsunami, toppling many of its infrastructures and claiming thousands of lives, it has miraculously emerged from the tragedy and now looks just as good as ever. With many examples of spectacular scenery, it is no wonder why it has spawned many a postcard for the world to see.
Featuring miles and miles of pristine shorelines, turquoise waters and lush green forests set against limestone peaks, the Andaman Coast is truly a sight to behold. As such, it presents a big slice of adventure paradise for swimmers, divers, snorkelers, kayakers, backpackers, hikers and campers hungry for a little action. At its heart lies the famous Phuket Island, the country's largest and most popular island, with a reputation for having fabulous resorts and incredible diving opportunities. There are also the picturesque Ko Phi Phi Islands, considered by some as the most beautiful in the area -portrayed as a "paradise island" in the Hollywood film The Beach. In addition, one can marvel at the magnificent reefs of Ao Phang Nga, which prides itself with being a prime snorkeling destination, offering an encompassing view of exotic corals and unique marine creatures. Truly, this is a land of wonder, where Mother Nature's masterpieces are served together on a proverbial platter for everyone to see, taste and enjoy.
User blogs:
Cheaper galactic spaceliner unveiled
News from http://news.ph.msn.com/top-stories/article.aspx?cp-documentid=3737940 Richard Branson unveiled Monday a commercial spaceliner offering tourists a cheaper chance to experience the thrill of weightlessness and view the splendor of the Earth from space. The British billionaire hopes to offer tickets aboard his spacecraft at a cost of 200,000 dollars each, giving adventurous ... Read full Blog post
Indonesia Eco Tourism
Tour Itenaray Day 01 BALI - LABUAN BAJO – RINCA ISLAND – KOMODO ISLAND (L.D) Pick up from your hotel in Bali and transfer to the airport, for flight to Labuan Bajo (West Flores) for approximately one and half hours. On arrival in Labuan Bajo airport, will be welcomed and met with our local representative or tour guide. Than transfer to the harbour to catch a boat cross to Rinca ... Read full Blog post
San Gimignano and San Pellegrino
Night falls on the flourishing and industrious San Gimignano, its 72 towers stand on the low roofs of the houses lit by the moon. This is not a luxury travel spot but is something you don't see every day. In the distance the clatter of hooves echoed tired in the Via Francigena. The hand of the blacksmith stops beating, the frame of the weaver becomes silent, the streets of the tank only a concert ... Read full Blog post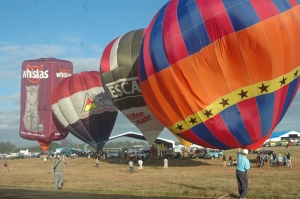 An Aerial fiesta in Clark Pampanga
Its a party in the sky as multi colored hot air balloons piloted ny different pilots from various partso of the world participated in this annual gathering. As early as 5am, the 2,500 hectare aviation complex at Clar Economic Zone in Pampanga was already crammedi with excitement. Clusters of hot air balloon participants busily prepare their own balloons for liftoff as they need to take advantage of ... Read full Blog post