48HourVisit.com

Planning a short visit? Check out

48HourVisit.com

, your online guide for short stays and weekend getaways.

Ad
During the 1960s, when Taiwan wasn't quite yet the economic superpower that it is today, there was only one way to describe Taipei: depressing. The streets were dirty and potholed, pollution hovered above the city, and the architecture was random and unimpressive. A few decades later, though, the city has undergone a radical transformation, coinciding with the country's rise as one of the region's wealthiest.
Today, Taipei is considered as one of Asia's most energetic and comfortable capitals. It is a place of technology, careful city planning, good governance, environmental concern, and lush parks. Not to mention that it has been able to achieve a balance between development and culture - amid modern marvels like the Taipei 101 lie historical buildings such as the Lungshan Temple.
Computer Savvy
What stand out most about Taipei is its forward thinking and willingness to embrace the modern age. Few places in the world have more laptops, cell phones, and internet connections than the city. In fact, it is considered to have the society with the most computer know-how in Asia.
Technology is all the rage here - not only with computers, but also with infrastructure. It is home to one of the tallest skyscrapers in the world, which is the Taipei 101. Standing 508 meters tall, it's not only the height that impresses, but the logistics required to build one in an earthquake-prone country as well. In recent years, Taipei has become fashionable too, overseeing the construction of new boutique hotels and chic hang-outs.
Gourmet Paradise
Taipei is widely regarded to have some of the densest population in the world, not only of people, but also restaurants. Taiwanese cuisine is very diverse, with influences coming in from its neighbors, like China, Vietnam, Japan, and Korea. Of course, Chinese cooking is the most dominant of these. It's almost impossible to walk down a Taipei street or alleyway without seeing some kind of restaurant or eatery.
West Taipei is generally considered to have the cheaper and more homely eating accommodations, while East Taipei is the haunt of the rich and famous. A different approach may be to try out the street food, which are popular in the city's Shilin Night Market.
Taipei Landmarks:
Taipei Traveler Advice
Taipei photography
no title by
Kaytanin
User blogs:
Cheaper galactic spaceliner unveiled
News from http://news.ph.msn.com/top-stories/article.aspx?cp-documentid=3737940 Richard Branson unveiled Monday a commercial spaceliner offering tourists a cheaper chance to experience the thrill of weightlessness and view the splendor of the Earth from space. The British billionaire hopes to offer tickets aboard his spacecraft at a cost of 200,000 dollars each, giving adventurous ... Read full Blog post
Indonesia Eco Tourism
Tour Itenaray Day 01 BALI - LABUAN BAJO – RINCA ISLAND – KOMODO ISLAND (L.D) Pick up from your hotel in Bali and transfer to the airport, for flight to Labuan Bajo (West Flores) for approximately one and half hours. On arrival in Labuan Bajo airport, will be welcomed and met with our local representative or tour guide. Than transfer to the harbour to catch a boat cross to Rinca ... Read full Blog post
San Gimignano and San Pellegrino
Night falls on the flourishing and industrious San Gimignano, its 72 towers stand on the low roofs of the houses lit by the moon. This is not a luxury travel spot but is something you don't see every day. In the distance the clatter of hooves echoed tired in the Via Francigena. The hand of the blacksmith stops beating, the frame of the weaver becomes silent, the streets of the tank only a concert ... Read full Blog post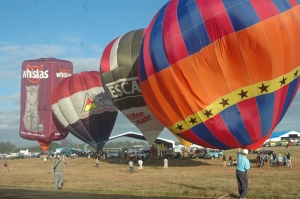 An Aerial fiesta in Clark Pampanga
Its a party in the sky as multi colored hot air balloons piloted ny different pilots from various partso of the world participated in this annual gathering. As early as 5am, the 2,500 hectare aviation complex at Clar Economic Zone in Pampanga was already crammedi with excitement. Clusters of hot air balloon participants busily prepare their own balloons for liftoff as they need to take advantage of ... Read full Blog post