48HourVisit.com

Planning a short visit? Check out

48HourVisit.com

, your online guide for short stays and weekend getaways.

Ad
Shilin District Travel Guide

/
Asia
/
Taiwan
/
Shilin District
/ Introduction
Taipei's largest night markets are just dots within the bigger picture that is Shilin, a district in Taiwan. It is home to many parks and museums, including the internationally-known National Palace Museum, keeper of most of China's best art collections, including masterpieces from the Forbidden City.
Opposite the National Palace Museum is Shung Ye Museum of Formosan Aborigines, which shows in pictures and in relics the aboriginal culture and lifestyles of the Formosans, the forerunners of modern-day Taiwanese. Just beside the museum is Aborigine Culture Park, where Taiwan's nine tribes are depicted through sculptural representations.
One of Taiwan's oldest excavation sites is Zhishanyan Cultural and Ecological Garden, a small hill with a main trail leading to historical sites such as the Huiji Temple, the Fortified Gate, and a small temple with a 300-year-old camphor tree. If the garden is a hark back to the past, Shilin's Taipei Astronomical Museum is a nod to the future, with its modern interactive displays, observatories, and three-dimensional narrations of anything and everything about the universe.
Patterned after the style of a Beijing palace, Shilin's Grand Mansion attracts bus -loads of tourists wishing to take their photographs in the mansion's evergreen foyer and main building façade. The Grand Mansion has tea rooms, pavilions, an abandoned airbase, and foot paths that recall the grandeur of dynastic China. Another dwelling, the European-style Shilin Residence and Gardens, was Chiang Kai-shek's house during his Taipei years.
Built in the memory of those who gave their lives for the Republic of China, the Martyrs' Square in Beian Road features a typical shrine with memorial tablets and burning incense. Its history might not interest travelers, but the temple's hourly "changing of guards" ceremony always reap some applause for the guards' rifle exhibitions and goose-like footwork.
To have some taste of Taiwanese life, a visit to one of Taipei's biggest night markets, Shilin Night Market, is a good idea for its labyrinth of alleys and streets filled with shops and eateries specializing in local Taiwanese fare like aiyu (lemon jelly), bubble tea, oyster omelet, and braised stinky tofu.
User blogs:
Cheaper galactic spaceliner unveiled
News from http://news.ph.msn.com/top-stories/article.aspx?cp-documentid=3737940 Richard Branson unveiled Monday a commercial spaceliner offering tourists a cheaper chance to experience the thrill of weightlessness and view the splendor of the Earth from space. The British billionaire hopes to offer tickets aboard his spacecraft at a cost of 200,000 dollars each, giving adventurous ... Read full Blog post
Indonesia Eco Tourism
Tour Itenaray Day 01 BALI - LABUAN BAJO – RINCA ISLAND – KOMODO ISLAND (L.D) Pick up from your hotel in Bali and transfer to the airport, for flight to Labuan Bajo (West Flores) for approximately one and half hours. On arrival in Labuan Bajo airport, will be welcomed and met with our local representative or tour guide. Than transfer to the harbour to catch a boat cross to Rinca ... Read full Blog post
San Gimignano and San Pellegrino
Night falls on the flourishing and industrious San Gimignano, its 72 towers stand on the low roofs of the houses lit by the moon. This is not a luxury travel spot but is something you don't see every day. In the distance the clatter of hooves echoed tired in the Via Francigena. The hand of the blacksmith stops beating, the frame of the weaver becomes silent, the streets of the tank only a concert ... Read full Blog post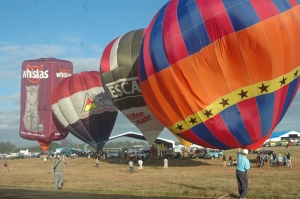 An Aerial fiesta in Clark Pampanga
Its a party in the sky as multi colored hot air balloons piloted ny different pilots from various partso of the world participated in this annual gathering. As early as 5am, the 2,500 hectare aviation complex at Clar Economic Zone in Pampanga was already crammedi with excitement. Clusters of hot air balloon participants busily prepare their own balloons for liftoff as they need to take advantage of ... Read full Blog post