48HourVisit.com

Planning a short visit? Check out

48HourVisit.com

, your online guide for short stays and weekend getaways.

Ad
Named after a legendary folk deity, the Matsu archipelago is one of Taiwan's least traveled destinations. No surprise because the 19 islands peppered across Fujian's coast are packed with remnants of the past civil war that tore the country from mainland China. Sadly, not all of them are open for visitors, as the islands are either a military outpost or a border settlement. Architectural aficionados, history-loving shutterbugs, and persevering travelers are sure to still find a place to spend time.
Matsu's two largest isles Nangan and Beigan house some of the archipelago's most renowned attractions, as well as the most tourist-friendly villages. The crescent-shaped Nangan is the "big brother" and is the tourist hotbed, with its modest collection of villages and daunting wartime ruins. The most notable is the Iron Fort, a rock wall along the southwestern bend. However, what sets this island from the rest is its wine distillery. Tourists can watch how the local concoction, laojiu (a medicinal rice wine), is made and even have the chance to have a sip or two.
Those who would rather stay sober may prefer the more laid-back Beigan. The quaint towns of Cinbi and Caozai make for spectacular photographs, with their granite houses specifically designed to repel harsh winds. Heading out to the outer islands may be a bit of a hassle, but they are worth it. Dongyin takes pride with its Dongyung Lighthouse, built in the early 20th century but is still working. On the other hand, the smaller isles of Dongjyu and Hsijyu, veritable backpacker's amusement parks, teem with natural splendor.
Matsu Landmarks:
User blogs:
Cheaper galactic spaceliner unveiled
News from http://news.ph.msn.com/top-stories/article.aspx?cp-documentid=3737940 Richard Branson unveiled Monday a commercial spaceliner offering tourists a cheaper chance to experience the thrill of weightlessness and view the splendor of the Earth from space. The British billionaire hopes to offer tickets aboard his spacecraft at a cost of 200,000 dollars each, giving adventurous ... Read full Blog post
Indonesia Eco Tourism
Tour Itenaray Day 01 BALI - LABUAN BAJO – RINCA ISLAND – KOMODO ISLAND (L.D) Pick up from your hotel in Bali and transfer to the airport, for flight to Labuan Bajo (West Flores) for approximately one and half hours. On arrival in Labuan Bajo airport, will be welcomed and met with our local representative or tour guide. Than transfer to the harbour to catch a boat cross to Rinca ... Read full Blog post
San Gimignano and San Pellegrino
Night falls on the flourishing and industrious San Gimignano, its 72 towers stand on the low roofs of the houses lit by the moon. This is not a luxury travel spot but is something you don't see every day. In the distance the clatter of hooves echoed tired in the Via Francigena. The hand of the blacksmith stops beating, the frame of the weaver becomes silent, the streets of the tank only a concert ... Read full Blog post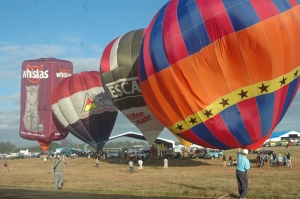 An Aerial fiesta in Clark Pampanga
Its a party in the sky as multi colored hot air balloons piloted ny different pilots from various partso of the world participated in this annual gathering. As early as 5am, the 2,500 hectare aviation complex at Clar Economic Zone in Pampanga was already crammedi with excitement. Clusters of hot air balloon participants busily prepare their own balloons for liftoff as they need to take advantage of ... Read full Blog post