48HourVisit.com

Planning a short visit? Check out

48HourVisit.com

, your online guide for short stays and weekend getaways.

Ad
Green Island Travel Guide

/
Asia
/
Taiwan
/
Green Island
/ Introduction
The wide array of thriving flora and fauna, surreal topography, and collection of historic penal colonies comprise Green Island, an offbeat vacation whose charm can make overcrowded and highly-commercialized favorites green with envy. Located off Taiwan's southeastern coast, this triangular patch of heaven can only be accessed by plane or ferry from Taitung. It may be a bit off the common tourist route, but the immaculate natural wonders and scenic panoramas reward the daring backpackers.
Green Island (or Lutao Hsiang) was Taiwan's Alcatraz back in its martial law period, incarcerating political prisoners who opposed the Kuomintang. A renowned local writer named Bo Yang was held in prison for nine years for criticizing then sovereign Chiang Kai-Shek. The prime penal colony is the Oasis Village which was off-limits during Taiwan's government reform. Today, this detainment facility is open for the public to visit.
Apart from the clusters of prisons, Green Island also takes pride on its photograph-worthy land formations such as the Sleeping Beauty Rock (which resembles a woman lying by the coast) and Confucius Rock (that looks like a sage standing by a ledge). Snorkeling in the island's waters showcases untouched reefs teeming with marine life, like sea snakes and turtles. Those who are tired of walking around and wading in the waters can head to the year-round hot springs for a relaxing bath.
User blogs:
Cheaper galactic spaceliner unveiled
News from http://news.ph.msn.com/top-stories/article.aspx?cp-documentid=3737940 Richard Branson unveiled Monday a commercial spaceliner offering tourists a cheaper chance to experience the thrill of weightlessness and view the splendor of the Earth from space. The British billionaire hopes to offer tickets aboard his spacecraft at a cost of 200,000 dollars each, giving adventurous ... Read full Blog post
Indonesia Eco Tourism
Tour Itenaray Day 01 BALI - LABUAN BAJO – RINCA ISLAND – KOMODO ISLAND (L.D) Pick up from your hotel in Bali and transfer to the airport, for flight to Labuan Bajo (West Flores) for approximately one and half hours. On arrival in Labuan Bajo airport, will be welcomed and met with our local representative or tour guide. Than transfer to the harbour to catch a boat cross to Rinca ... Read full Blog post
San Gimignano and San Pellegrino
Night falls on the flourishing and industrious San Gimignano, its 72 towers stand on the low roofs of the houses lit by the moon. This is not a luxury travel spot but is something you don't see every day. In the distance the clatter of hooves echoed tired in the Via Francigena. The hand of the blacksmith stops beating, the frame of the weaver becomes silent, the streets of the tank only a concert ... Read full Blog post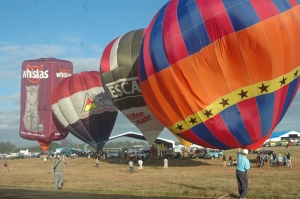 An Aerial fiesta in Clark Pampanga
Its a party in the sky as multi colored hot air balloons piloted ny different pilots from various partso of the world participated in this annual gathering. As early as 5am, the 2,500 hectare aviation complex at Clar Economic Zone in Pampanga was already crammedi with excitement. Clusters of hot air balloon participants busily prepare their own balloons for liftoff as they need to take advantage of ... Read full Blog post