48HourVisit.com

Planning a short visit? Check out

48HourVisit.com

, your online guide for short stays and weekend getaways.

Ad

The Glossary

yebo - "means "yes""
Wild Coast Travel Guide

/
Africa
/
South Africa
/
Wild Coast
/ Introduction
A traveler's love for the beach will be surely reciprocated at Wild Coast, a haven for surfers, game fishers and beach star-gazers for its warm waters and picturesque coastlines without the tourist crowd. Wild Coast's stature as one of South Africa's poorest regions may brush off tourists looking for comfort and English speakers, but for backpackers and volunteers who aim for tough challenges and dirt-cheap lodging, this may be the start of a real adventure.
A part of the Eastern Cape province, Wild Coast is home to the Xhosa people, one of the two major ethnic groups in the country and the parent tribe of the country's first president, Nelson Mandela. The friendly Xhosas usually invite travelers to their villages to see their round huts or even chat with a sangoma (witchdoctor). A visit to the villagers' sheben (bar) enables tourists to taste the natives' beer and food cooked in wood oven. It is also possible to buy traditional crafts like beadwork, pottery and woven artworks as keepsakes before packing bags towards other sites such as the surfing destinations of Kraal and Coffee Bay, which is also postmarked for its idyllic cliffs, fire dancers and drum makers. Mthatha, the province's bustling main town, is known for its bursting African spirit and Nelson Mandela Museum. It is a transportation hub with bus services to East London and Durban.
An eclectic mix of local characters may surprise visitors arriving at Port St. Johns, a beach town popular for its wild waters and equally wild people. Here, natives teach tourists not only how to spear their own supper but also how to bite live anglers freshly caught from the sea. The town also has several sulfur springs, a river, and the Magwa Falls for activities like canoeing and boardsailing. The Silaka Game Reserve is south of the town, but it only offers butterflies and a few other species unlike the adjacent Hsuleka Game Reserve, which offers hiking trips revealing pristine forest, raptors, black and blue wildebeests, and two kinds of zebras.
User blogs:
Cheaper galactic spaceliner unveiled
News from http://news.ph.msn.com/top-stories/article.aspx?cp-documentid=3737940 Richard Branson unveiled Monday a commercial spaceliner offering tourists a cheaper chance to experience the thrill of weightlessness and view the splendor of the Earth from space. The British billionaire hopes to offer tickets aboard his spacecraft at a cost of 200,000 dollars each, giving adventurous ... Read full Blog post
Indonesia Eco Tourism
Tour Itenaray Day 01 BALI - LABUAN BAJO – RINCA ISLAND – KOMODO ISLAND (L.D) Pick up from your hotel in Bali and transfer to the airport, for flight to Labuan Bajo (West Flores) for approximately one and half hours. On arrival in Labuan Bajo airport, will be welcomed and met with our local representative or tour guide. Than transfer to the harbour to catch a boat cross to Rinca ... Read full Blog post
San Gimignano and San Pellegrino
Night falls on the flourishing and industrious San Gimignano, its 72 towers stand on the low roofs of the houses lit by the moon. This is not a luxury travel spot but is something you don't see every day. In the distance the clatter of hooves echoed tired in the Via Francigena. The hand of the blacksmith stops beating, the frame of the weaver becomes silent, the streets of the tank only a concert ... Read full Blog post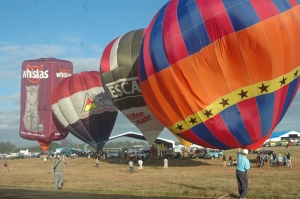 An Aerial fiesta in Clark Pampanga
Its a party in the sky as multi colored hot air balloons piloted ny different pilots from various partso of the world participated in this annual gathering. As early as 5am, the 2,500 hectare aviation complex at Clar Economic Zone in Pampanga was already crammedi with excitement. Clusters of hot air balloon participants busily prepare their own balloons for liftoff as they need to take advantage of ... Read full Blog post