48HourVisit.com

Planning a short visit? Check out

48HourVisit.com

, your online guide for short stays and weekend getaways.

Ad

The Glossary

Molo - "means Hello in Xhosa"
Vredefort Travel Guide

/
Africa
/
South Africa
/
Vredefort
/ Introduction
The largest meteor impact crater on Earth is Vredefort, a UNESCO World Heritage Site and a major tourist attraction in Free State Province for its richness in geology, archaeology and history. The asteroid that created the crater is estimated to be over six miles wide, one of the largest to have hit Earth over two billion years ago during the Paleoproterozoic era. The impact was more powerful than all nuclear bombs in the world combined, killing 70 percent of life on Earth including dinosaurs. It left a hollow that is 186 miles wide, which is regarded as the world's second oldest, a little less than 300 million years younger than Russia's Suavjärvi Crater.
While flying on the way to Cape Town, travelers may see the crater's rugged interior composed of semi-circular rings of mountains. This is because Vredefort is one of the few multi-ringed impact craters left on Earth, although craters like these are more common elsewhere in the Solar System. Vredefort Crater is similar to those found on the moon and also to Valhalla Crater on Jupiter's Callisto, which is why Vredefort attracts a large number of visitors interested in geology and astronomy.
It is also possible to see the crater up-close through renting a vehicle from nearby towns like Parys and Vredefort. Travelers may climb one of the mountains to see the crater's 360-degree panorama that includes valleys, a central dome, a beautiful ridge, and the Vaal Riverbed, which teems with birdlife. The crater actually extends to as far as Johannesburg, but the lowest part is in Vredefort, suggesting that it is where the impact had been the most intense, so powerful that it sent the area's earth and dust all over the planet.
The explosion also revealed the secrets of the Earth 20 kilometers down from the crust, including precious metals like platinum and gold, which is why many travelers are setting a mining camp on the crater. At the dome's cross-section, hikers may see the dark grey granite, which was melted by the impact.
Humans have lived in the dome for at least 150 thousand years since Stone Age. It was home to the Tswanas during Iron Age and was a battlefield during the 19th-century Anglo-Boer War. People interested about this history and its archaeological remains flock in the crater, especially since affordable accommodations are just nearby.
User blogs:
Cheaper galactic spaceliner unveiled
News from http://news.ph.msn.com/top-stories/article.aspx?cp-documentid=3737940 Richard Branson unveiled Monday a commercial spaceliner offering tourists a cheaper chance to experience the thrill of weightlessness and view the splendor of the Earth from space. The British billionaire hopes to offer tickets aboard his spacecraft at a cost of 200,000 dollars each, giving adventurous ... Read full Blog post
Indonesia Eco Tourism
Tour Itenaray Day 01 BALI - LABUAN BAJO – RINCA ISLAND – KOMODO ISLAND (L.D) Pick up from your hotel in Bali and transfer to the airport, for flight to Labuan Bajo (West Flores) for approximately one and half hours. On arrival in Labuan Bajo airport, will be welcomed and met with our local representative or tour guide. Than transfer to the harbour to catch a boat cross to Rinca ... Read full Blog post
San Gimignano and San Pellegrino
Night falls on the flourishing and industrious San Gimignano, its 72 towers stand on the low roofs of the houses lit by the moon. This is not a luxury travel spot but is something you don't see every day. In the distance the clatter of hooves echoed tired in the Via Francigena. The hand of the blacksmith stops beating, the frame of the weaver becomes silent, the streets of the tank only a concert ... Read full Blog post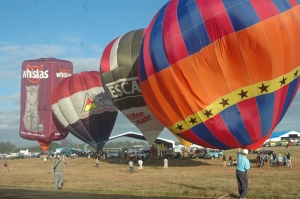 An Aerial fiesta in Clark Pampanga
Its a party in the sky as multi colored hot air balloons piloted ny different pilots from various partso of the world participated in this annual gathering. As early as 5am, the 2,500 hectare aviation complex at Clar Economic Zone in Pampanga was already crammedi with excitement. Clusters of hot air balloon participants busily prepare their own balloons for liftoff as they need to take advantage of ... Read full Blog post