48HourVisit.com

Planning a short visit? Check out

48HourVisit.com

, your online guide for short stays and weekend getaways.

Ad

The Glossary

eish - "it usually does not mean anything, but it's a common South African expression that the locals usually use to start a sentence as in: "Eish, it's hot" or "Eish, that's far.""
Pilansberg National Park Travel Guide

/
Africa
/
South Africa
/
Pilansberg National Park
/ Introduction
Environmental education is a favorite subject at Pilansberg National Park, a big, open-air classroom of natural wonders nearby Johannesburg in South Africa. Known for its beautiful landscape, Pilansberg provides ample picnic and camping areas where visitors can study wildlife in its natural habitat, or simply relax and sight-see many different animals including the Big Five (lion, leopard, elephant, rhino and buffalo). Whether by foot or by any type of vehicle, it is ideal to go on a safari to see the park's Pilanesberg Alkaline Ring Complex, a million-year-old volcanic crater that is one of the largest in the world.
A short ride away from Johannesburg, Pilansberg is cloaked in a scenic terrain that accommodates almost every mammal in South Africa such as giraffes, antelopes, cheetahs, painted hunting dogs, and over 360 types of birds. These animals can be seen eating fruits, playing cat-and-mouse, or snacking on a carcass.
There is a self-guided trail at Manyene Complex, which offers crash courses on environmental conservation and awareness while engaging students in game viewing and bird-watching on foot. Along the trail is a walk-in aviary with over 80 kinds of indigenous birds.
Most of the roads in the park are well-maintained dirt roads, making the park passable to almost all types of vehicles, unlike in other South African parks where only all-terrain trucks can be used for safari. Along the way are several bars, gift shops, the artificial lake called Mankwe Dam, and Thabayadiotso or "Proud Mountain," where one can photograph an assembly of drinking or playing animals. One may also stumble upon fossil sites dating from Stone Age and Iron Age.
The entertainment complex Sun City beside the park has plenty of other recreational activities such as water slides, wave pools, cinemas, casinos, and restaurants. Many resorts nearby also provide dining and camping services, but for some tourists, nothing beats enjoying a typical South African braii (barbecue) under the stars.
User blogs:
Cheaper galactic spaceliner unveiled
News from http://news.ph.msn.com/top-stories/article.aspx?cp-documentid=3737940 Richard Branson unveiled Monday a commercial spaceliner offering tourists a cheaper chance to experience the thrill of weightlessness and view the splendor of the Earth from space. The British billionaire hopes to offer tickets aboard his spacecraft at a cost of 200,000 dollars each, giving adventurous ... Read full Blog post
Indonesia Eco Tourism
Tour Itenaray Day 01 BALI - LABUAN BAJO – RINCA ISLAND – KOMODO ISLAND (L.D) Pick up from your hotel in Bali and transfer to the airport, for flight to Labuan Bajo (West Flores) for approximately one and half hours. On arrival in Labuan Bajo airport, will be welcomed and met with our local representative or tour guide. Than transfer to the harbour to catch a boat cross to Rinca ... Read full Blog post
San Gimignano and San Pellegrino
Night falls on the flourishing and industrious San Gimignano, its 72 towers stand on the low roofs of the houses lit by the moon. This is not a luxury travel spot but is something you don't see every day. In the distance the clatter of hooves echoed tired in the Via Francigena. The hand of the blacksmith stops beating, the frame of the weaver becomes silent, the streets of the tank only a concert ... Read full Blog post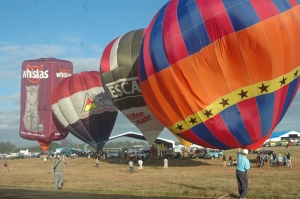 An Aerial fiesta in Clark Pampanga
Its a party in the sky as multi colored hot air balloons piloted ny different pilots from various partso of the world participated in this annual gathering. As early as 5am, the 2,500 hectare aviation complex at Clar Economic Zone in Pampanga was already crammedi with excitement. Clusters of hot air balloon participants busily prepare their own balloons for liftoff as they need to take advantage of ... Read full Blog post