48HourVisit.com

Planning a short visit? Check out

48HourVisit.com

, your online guide for short stays and weekend getaways.

Ad

The Glossary

Molo - "means Hello in Xhosa"
Kruger National Park Travel Guide

/
Africa
/
South Africa
/
Kruger National Park
/ Introduction
Safari reigns at Kruger National Park, the flagship of South African national parks for having the best of African flora and fauna including the "Big Five" (lions, elephants, leopards, rhinos and buffalos). A UNESCO Biosphere Reserve, Kruger is South Africa's largest game reserve with a breadth of offerings such as camping, driving, shopping, and extreme eco adventure for all budget levels.
The animals' different lifecycles can be observed at Sabie and Crocodile River, a dirt road track north of the park. At daytime, game viewers may indulge at the sight of hippos and crocs while bush driving in a 4x4 car with experienced rangers. When darkness falls, drivers spot for lions, leopards, hyenas and other nocturnal creatures. Wildlife viewing can be more rewarding during dry winter season, when vegetation is sparse and animals are drawn into the waterholes to drink every morning and evening.
For travelers who have a few days to spare, trailing the wilderness on foot provides a good chance to come face-to-face with lions, elephants and cheetahs, to get acquainted with South Africa's prolific birdlife, or to be familiarized with the call of an African Fish Eagle. At the end of a trail, travelers usually make a splash in a swimming pool, shop for cheap artistic wood carvings, or try their luck at Skukuza, one the world's toughest nine-hole golf courses. They can also grill their own braii (barbecue) made of warthog sausage, springbok tenderloin, ostrich steak, or biltong (homemade meat) like kudu, zebra or elephant.
At night, tourists may opt to stay in caravans or log cabins if they do not want the usual way of billeting in a hotel. The park has eight entrances and exit points to reach the nearby airports and destinations such as Cape Town, Drakensberg, Johannesburg, and Lesotho.
Kruger National Park Traveler Advice
User blogs:
Cheaper galactic spaceliner unveiled
News from http://news.ph.msn.com/top-stories/article.aspx?cp-documentid=3737940 Richard Branson unveiled Monday a commercial spaceliner offering tourists a cheaper chance to experience the thrill of weightlessness and view the splendor of the Earth from space. The British billionaire hopes to offer tickets aboard his spacecraft at a cost of 200,000 dollars each, giving adventurous ... Read full Blog post
Indonesia Eco Tourism
Tour Itenaray Day 01 BALI - LABUAN BAJO – RINCA ISLAND – KOMODO ISLAND (L.D) Pick up from your hotel in Bali and transfer to the airport, for flight to Labuan Bajo (West Flores) for approximately one and half hours. On arrival in Labuan Bajo airport, will be welcomed and met with our local representative or tour guide. Than transfer to the harbour to catch a boat cross to Rinca ... Read full Blog post
San Gimignano and San Pellegrino
Night falls on the flourishing and industrious San Gimignano, its 72 towers stand on the low roofs of the houses lit by the moon. This is not a luxury travel spot but is something you don't see every day. In the distance the clatter of hooves echoed tired in the Via Francigena. The hand of the blacksmith stops beating, the frame of the weaver becomes silent, the streets of the tank only a concert ... Read full Blog post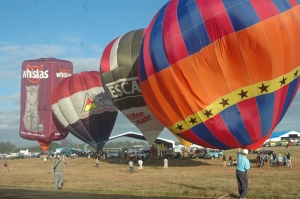 An Aerial fiesta in Clark Pampanga
Its a party in the sky as multi colored hot air balloons piloted ny different pilots from various partso of the world participated in this annual gathering. As early as 5am, the 2,500 hectare aviation complex at Clar Economic Zone in Pampanga was already crammedi with excitement. Clusters of hot air balloon participants busily prepare their own balloons for liftoff as they need to take advantage of ... Read full Blog post