48HourVisit.com

Planning a short visit? Check out

48HourVisit.com

, your online guide for short stays and weekend getaways.

Ad

The Glossary

Molo - "means Hello in Xhosa"
Kgalagadi Transfrontier Park Travel Guide

/
Africa
/
South Africa
/
Kgalagadi Transfrontier Park
/ Introduction
Wildlife prospers under the radar of Kgalagadi Transfrontier Park, a huge, unspoiled nature preserve and conservation area in Southern Africa. Located within the southern Kalahari Desert, Kgalagadi is best known for its unique desert-adapted birds, mammals, rodents and reptiles, especially the black-maned Kalahari lions and gemsbok. The park is a popular stop for tourists crossing to Botswana from South Africa, and vice versa. People with disabilities can engage in a safari as there are camps that cater to their needs. There are also chalets and pole tent areas where backpackers can spend barbecue nights amid a desert filled with abundant, varied wilderness and extremes.
Meaning "the great thirst" in Tswana, Kgalagadi is made up of 120 nutrient-rich saltpans or dry riverbeds, which during rainy season, are filled with water sustaining the animals during winter. Winter (June to August) is the best time to view animals as they congregate in the riverbeds to drink. The tourist is considered lucky if he or she can witness the rivers flow, which happens only once in a century, summoning almost all animals to get out from their hiding places to fill "the great thirst."
While on board a four by four vehicle or while walking on guided tours, travelers usually encounter exotic mammals such as endangered wild dogs, leopards, blue wildebeests, giraffes, hyenas, aardvarks, bat-eared foxes, and sociable weavers and vultures. Kgalagadi is a haven for birdwatchers as it has over 50 species of raptors and 200 kinds of birds like flamingos, pelicans and pygmy falcons. Locating a mob of meerkats is a favorite among tourists as these furry fellows perform antics in the dunes.
As for flora, the melon-like creeper water-holding tsamma and massive camel-thorn trees are the unique ones commonly found by the riverbeds.
Apart from hiking and wildlife watching, travelers usually spend time visiting the Kgalgadi Museum or attending their respective camps' holiday programs, slide shows and lectures to know more information about the park's animals and how to conserve them. Cultural preservation is also included in the park's agenda, and for this, tours may be arranged to visit the nearby communities of the Khomani San and Mier. Little San children also go near one of the park's entrance gates to sell seed jewelry as souvenir.
User blogs:
Cheaper galactic spaceliner unveiled
News from http://news.ph.msn.com/top-stories/article.aspx?cp-documentid=3737940 Richard Branson unveiled Monday a commercial spaceliner offering tourists a cheaper chance to experience the thrill of weightlessness and view the splendor of the Earth from space. The British billionaire hopes to offer tickets aboard his spacecraft at a cost of 200,000 dollars each, giving adventurous ... Read full Blog post
Indonesia Eco Tourism
Tour Itenaray Day 01 BALI - LABUAN BAJO – RINCA ISLAND – KOMODO ISLAND (L.D) Pick up from your hotel in Bali and transfer to the airport, for flight to Labuan Bajo (West Flores) for approximately one and half hours. On arrival in Labuan Bajo airport, will be welcomed and met with our local representative or tour guide. Than transfer to the harbour to catch a boat cross to Rinca ... Read full Blog post
San Gimignano and San Pellegrino
Night falls on the flourishing and industrious San Gimignano, its 72 towers stand on the low roofs of the houses lit by the moon. This is not a luxury travel spot but is something you don't see every day. In the distance the clatter of hooves echoed tired in the Via Francigena. The hand of the blacksmith stops beating, the frame of the weaver becomes silent, the streets of the tank only a concert ... Read full Blog post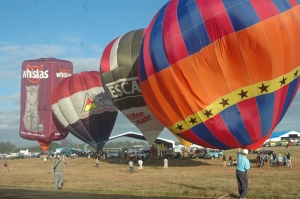 An Aerial fiesta in Clark Pampanga
Its a party in the sky as multi colored hot air balloons piloted ny different pilots from various partso of the world participated in this annual gathering. As early as 5am, the 2,500 hectare aviation complex at Clar Economic Zone in Pampanga was already crammedi with excitement. Clusters of hot air balloon participants busily prepare their own balloons for liftoff as they need to take advantage of ... Read full Blog post