48HourVisit.com

Planning a short visit? Check out

48HourVisit.com

, your online guide for short stays and weekend getaways.

Ad

The Glossary

lekker - "what to say if you think something is enjoyable or nice"
Cradle of Humankind Travel Guide

/
Africa
/
South Africa
/
Cradle of Humankind
/ Introduction
Anyone can become an instant archaeologist at Cradle of Humankind, declared as a UNESCO World Heritage Site for being one of the world's oldest archaeological hotspots with the highest number of humanoid fossils ever found. A car ride away from Johannesburg, the Cradle of Humankind occupies 47,000 hectares of tourist attractions that include 13 well-explored fossil sites and over 200 limestone caves, guaranteed to give tourists a long hike and unique discoveries.
Travelers can track down the evolution of mankind as they hop from one cave to another such as Sterkfontein, Kromdraai and Makapansgat, which has various australopithecines that existed about three million years ago. Remains of the Homo habilis, Homo erectus, and Homo sapiens, along with their stone tools and proofs of fire use, can be spotted in caves like Swartkrans, Cooper's, and Drimolen. Motsetsi have remnants of the saber-toothed cat dated about 1.6 million years ago, while Plovers Lake has over 25,000 fossils including hundreds of tools such as knives and spear points dating to around 70,000 years back.
For those who cannot pass through the caves' narrow passageways and rocky interiors, Maropeng has an extensive fossil exhibition that can be seen through an underground boat ride. Nearby is the Rhino and Lion Nature Reserve, home to the Wonder Cave, the country's third-largest cave chamber believed to be about 1.5 million years old. The 60-meter-deep cave can be accessed through an elevator. It contains about 14 amazing stalactite and stalagmite formations that are up to 15 meters high and still growing.
After a day of exploration, travelers may chill out at any of the park's bars and restaurants overlooking the Cradle's thick vegetation. There is a medieval-themed restaurant in the park wherein visitors can hire costumes and join a cocktail costume party.
User blogs:
Cheaper galactic spaceliner unveiled
News from http://news.ph.msn.com/top-stories/article.aspx?cp-documentid=3737940 Richard Branson unveiled Monday a commercial spaceliner offering tourists a cheaper chance to experience the thrill of weightlessness and view the splendor of the Earth from space. The British billionaire hopes to offer tickets aboard his spacecraft at a cost of 200,000 dollars each, giving adventurous ... Read full Blog post
Indonesia Eco Tourism
Tour Itenaray Day 01 BALI - LABUAN BAJO – RINCA ISLAND – KOMODO ISLAND (L.D) Pick up from your hotel in Bali and transfer to the airport, for flight to Labuan Bajo (West Flores) for approximately one and half hours. On arrival in Labuan Bajo airport, will be welcomed and met with our local representative or tour guide. Than transfer to the harbour to catch a boat cross to Rinca ... Read full Blog post
San Gimignano and San Pellegrino
Night falls on the flourishing and industrious San Gimignano, its 72 towers stand on the low roofs of the houses lit by the moon. This is not a luxury travel spot but is something you don't see every day. In the distance the clatter of hooves echoed tired in the Via Francigena. The hand of the blacksmith stops beating, the frame of the weaver becomes silent, the streets of the tank only a concert ... Read full Blog post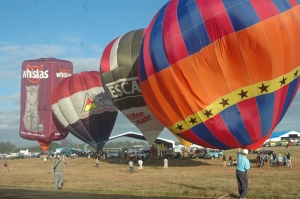 An Aerial fiesta in Clark Pampanga
Its a party in the sky as multi colored hot air balloons piloted ny different pilots from various partso of the world participated in this annual gathering. As early as 5am, the 2,500 hectare aviation complex at Clar Economic Zone in Pampanga was already crammedi with excitement. Clusters of hot air balloon participants busily prepare their own balloons for liftoff as they need to take advantage of ... Read full Blog post