48HourVisit.com

Planning a short visit? Check out

48HourVisit.com

, your online guide for short stays and weekend getaways.

Ad

The Glossary

thawb - "loose garment with long sleeved worn by Saudi men."
Hejaz Travel Guide

/
Middle East
/
Saudi Arabia
/
Hejaz
/ Introduction
The Turkish villayet (province) of Hejaz is notable for having the two sacred cities of Medina and Mecca, visited annually by throngs of Muslim pilgrims from around the world, in addition to the cosmopolitan city of Jeddah. For centuries, the province of Hejaz has met thousands of visitors coming all the way from Syria, Yemen, Oman and Kuwait, either to trade or to renew their vows to the Kaaba during the Hajj. Today, the tradition continues, making the province a melting pot of not only religion but also of races and cultures.
Nestled by the Red Sea coast and hugged by the Gulf of Aqaba, Hejaz, which means "separation" or "barrier," is literally separated from the rest of Arabia by the daunting Tihama Mountain Ranges. The province is also divided by several valleys and wadis (valleys) such as the Wadi Hamd, Wadi Jizil and Wadi es Safra, which cuts through a mountain and affords the tourist a closer access to the valley of Medina from Yanbu and Khaibar.
Getting to the northern part of the province will bring visitors to a number of virtually unexplored sites that include the small seaport towns of Damgh, Muwela and El Wijh, which are formerly a terminus of Egyptian pilgrims and a settlement for the Romans and the Nabataeans of the ancient times.
For those who want to navigate the wilderness, the sandstone desert of El Hisma could be a great venue for a 4x4 wheel drive or a camel ride. From El Hisma, tourists can get to the east of Jebel Awerid, tucked in the oasis of Tema, the sanctuary of the Shammar tribe.
Further south, travelers can follow the pilgrim route to El Ala, said to be the primary settlement of El Hajr or the Egra of Ptolemy, popularly known as the "Oasis Town of Gold and Frankincense."
Those who crave for an adrenaline-pumping adventure can hike up to the rock-cut tombs of Medina Salih, which is similar to the Rose Red City of Petra.
Trailing the southern hinterland of the province will lead visitors to get close to nature, with the province's lush gardens and plantations of wheat, barley and dates, situated steeply in the Taif Plateau, which overlooks the small stone houses from below.
User blogs:
What to see in Salzburg, Austria
Salzburg is a charming town on the banks of the Salzach River. On the left bank, on top of the Monchsberg, stands the fortress, which dominates the center of town with many houses in the '500 and '600. In addition to wander through the streets and pastries, you can visit the Cathedral, the Residenz in which they lived archbishops and princes, the castle of Maribel with the beautiful gardens ... Read full Blog post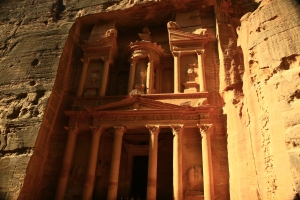 I wish I was Johann Ludwig Burckhardt
Some first encounters are ireplaceable, they can happen once and the impact is something you can't replicate afterwards, Imagine yourself being swiss explorer Johann Ludwig Burckhardt (why do they have to have such complicated names? whats wrong with just Van Dam??), Johann was an explorer and toured the middle east/african region back in the 18th century, GPS was still an expensive gadget for young ... Read full Blog post
Palace on Wheels : A Royal Luxury Train Tour in India
Palace on Wheels is one of the most popular luxury trains running in India. It presents a great chance to travelers from across the globe to explore the fabulous destination Rajasthan and Agra sitting in the lap of exquisite luxury of the train. It is a well-known fact that Indian royalty was too fond of luxury trains. The princes of various princely states got their trains customized in England ... Read full Blog post