48HourVisit.com

Planning a short visit? Check out

48HourVisit.com

, your online guide for short stays and weekend getaways.

Ad

The Glossary

burka - "a face veil worn by women in the Middle East."
Dir'aiyah Travel Guide

/
Middle East
/
Saudi Arabia
/
Dir'aiyah
/ Introduction
Dubbed as the ancestral home of the Al-Sauds and the origin of the Saudi-Wahhabi union, old Dir'aiyah is one of the most visited destinations of Arabia for its dazzling array of historical riches. Tucked away in the outskirts of northwestern Riyadh, the town is one great choice for visitors who want to stay away from the clamor in Riyadh, the capital and the largest city of Saudi Arabia.
Old-world lure
Humbly built in mud-brick structures, the moated oasis town of Dir'aiyah possess a number of fortress-like mansions owned by the ruling family of the country until the early 20th century, as well as buildings under restoration, which emanate with the eerie but spellbinding old-world appeal of the previous kingdom.
Historic symbol
It was only in 1974 that the "revival" of Old Dir'aiyah started with the aim to bring back the glory and the true symbol of the history of Saudi Arabia. Today, among the structures that were saved from total wreckage include the Qasr Nasr, the Saad bin Saud Palace, the watch tower of Burj Faysal, sections of Turaif moats and walls, and mosques, bath houses and guesthouses.
Old town opulence
Among the other must-sees when visiting Dir'aiyah include the old town for its opulence and elaborate architecture. Getting inside the fortress will bring visitors to a maze of walls adorned with intricately carved wooden doors that enclose a number of grand palaces, which include the Salwa Palace, Saad bin Saud Palace and the Imam Mohammad bin Saud Mosque. There are also a chockfull of guesthouses and bathhouses like the At-Turaif Bath House, where visitors can linger after a day of sightseeing.
There are several Ottoman houses lining along the walls that add stateliness to the whole picture. Undoubtedly, the overall façade is a delight for shutterbugs.
Modern treats
Getting to the modern section of the town will pave way to the Turaif, which is set atop of a hill. Here, visitors can roam around at the well-tendered gardens and palm groves or head to the Turief's open-air bazaar to buy some goodies.
Other points of interest that are still under construction include four museums namely the Museum of War and Defense, Museum of Horses, Museum of Social Life and the Museum of Commerce and Finance.
User blogs:
What to see in Salzburg, Austria
Salzburg is a charming town on the banks of the Salzach River. On the left bank, on top of the Monchsberg, stands the fortress, which dominates the center of town with many houses in the '500 and '600. In addition to wander through the streets and pastries, you can visit the Cathedral, the Residenz in which they lived archbishops and princes, the castle of Maribel with the beautiful gardens ... Read full Blog post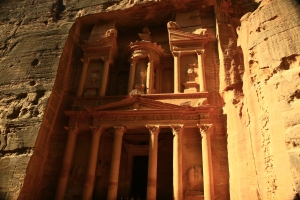 I wish I was Johann Ludwig Burckhardt
Some first encounters are ireplaceable, they can happen once and the impact is something you can't replicate afterwards, Imagine yourself being swiss explorer Johann Ludwig Burckhardt (why do they have to have such complicated names? whats wrong with just Van Dam??), Johann was an explorer and toured the middle east/african region back in the 18th century, GPS was still an expensive gadget for young ... Read full Blog post
Palace on Wheels : A Royal Luxury Train Tour in India
Palace on Wheels is one of the most popular luxury trains running in India. It presents a great chance to travelers from across the globe to explore the fabulous destination Rajasthan and Agra sitting in the lap of exquisite luxury of the train. It is a well-known fact that Indian royalty was too fond of luxury trains. The princes of various princely states got their trains customized in England ... Read full Blog post