48HourVisit.com

Planning a short visit? Check out

48HourVisit.com

, your online guide for short stays and weekend getaways.

Ad

The Glossary

thawb - "loose garment with long sleeved worn by Saudi men."
Al-Hofuf Travel Guide

/
Middle East
/
Saudi Arabia
/
Al-Hofuf
/ Introduction
Set in the Eastern Province of Arabia, Al-Hofuf or Al-Hasa is a major city in the vast Al Ahsa Oasis, where palm trees thrive and produce over a million tons of dates annually. Apart from having sprawling date farms, Al-Hofuf is also one of the world's chief producers of oil, luring tourists from all over the world to hang around the city's oil-related landmarks or to delve into the oil and dates business.
Nomadic lifestyle
Nowadays, Al-Hofuf is swarmed by visitors who want to experience being a nomad for a day or two by participating in desert treks. Since the town is historically and culturally rich, there are chockfull of sights that might engage visitors into a deep introspection.
Arabian Romeo and Juliet
Among the city's "honor roll" of sights include the Mausoleum of Laila and Majnoon, the crypt of the Arabian Romeo and Juliet, as well as the 5000-year-old Abqaiq salt mine, which is still in operations up to this day.
Architecture and crafts
Commonly known as the Ibrahim Palace, the Qasr Ibrahim Castle was built through the orders of the Ottoman ruler, Ibrahim, who was also responsible for the construction of the Al-Qubbah Mosque, the Jabel Al-Qara and its limestone caves called Ghar Al Hashshab or the "Cave of the Arrow Maker," where unglazed pottery is sold.
Trading culture
Al-Hofuf also houses an old trading port called Al Ugair. Every Thursday, camel traders gather at Souq Sweiq, where camels can be seen racing on a road filled with wares such as gold, textiles, carpets and trinkets. The Hofuf Museum also makes for an interesting visit for its antiquities, folklore exhibit halls and dioramas.
Four-wheel adventure
Apart from dallying around the souks, visitors can also opt for a leisurely drive via 4x4 to trail the breadth of the town's oasis, where they can have a view of charming hamlets.
User blogs:
What to see in Salzburg, Austria
Salzburg is a charming town on the banks of the Salzach River. On the left bank, on top of the Monchsberg, stands the fortress, which dominates the center of town with many houses in the '500 and '600. In addition to wander through the streets and pastries, you can visit the Cathedral, the Residenz in which they lived archbishops and princes, the castle of Maribel with the beautiful gardens ... Read full Blog post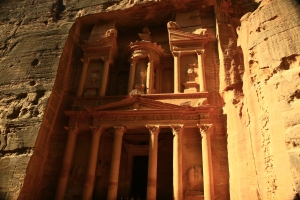 I wish I was Johann Ludwig Burckhardt
Some first encounters are ireplaceable, they can happen once and the impact is something you can't replicate afterwards, Imagine yourself being swiss explorer Johann Ludwig Burckhardt (why do they have to have such complicated names? whats wrong with just Van Dam??), Johann was an explorer and toured the middle east/african region back in the 18th century, GPS was still an expensive gadget for young ... Read full Blog post
Palace on Wheels : A Royal Luxury Train Tour in India
Palace on Wheels is one of the most popular luxury trains running in India. It presents a great chance to travelers from across the globe to explore the fabulous destination Rajasthan and Agra sitting in the lap of exquisite luxury of the train. It is a well-known fact that Indian royalty was too fond of luxury trains. The princes of various princely states got their trains customized in England ... Read full Blog post