48HourVisit.com

Planning a short visit? Check out

48HourVisit.com

, your online guide for short stays and weekend getaways.

Ad

The Glossary

thawb - "loose garment with long sleeved worn by Saudi men."
Al-Faw Travel Guide

/
Middle East
/
Saudi Arabia
/
Al-Faw
/ Introduction
In the ancient times, Al-Faw served as a Silk Road terminus for caravan routes coming all the way from the Persian Gulf and from Sana'a in Yemen. Today, this small port town in Saudi Arabia is nestled underneath the granite cliffs of Jebel Tuwaiq Escarpment on the western rim of the Empty Quarter. Once on its history, it was believed to be the "Water Palace" or the playground of Iraq's Saddam Hussein and his Ba'ath Party officials.
Prehistoric artifacts
Alternatively known as Qariya Al- Faw, this ancient site holds a plethora of relics from the past. These treasures include a handful of souks, palaces, temples and catacombs that have distinct rock-hewn stones and inscriptions that have not yet been studied by scientists. There are also excellent samples of an urban settlement from the pre-Islamic era found in the town's very streets, as well as irrigation and canal systems that are all well-preserved. Before visitors can get close to the ruins, however, they have to secure a permit to visit the site and tag along a guide to be able to pinpoint the location of the prehistoric artifacts.
Old-world charm
Although Al-Faw suffered serious conflicts in the past especially during the First World War, Gulf War and the Iran-Iraq War, the town was able to redeem its self and now, it is slowly embracing modernization without compromising its old-world appeal.
Climbing and trekking routes
Since the town is close to the crossing point of Wadi Ad-Dawasir and the ranges of Tuwaiq Mountains, interested mountain climbers or trekkers can trail and hang out at the area without the hustle of being with crowds. Another interesting site to visit in Al-Faw is the Najran Gerrha trade route.
User blogs:
What to see in Salzburg, Austria
Salzburg is a charming town on the banks of the Salzach River. On the left bank, on top of the Monchsberg, stands the fortress, which dominates the center of town with many houses in the '500 and '600. In addition to wander through the streets and pastries, you can visit the Cathedral, the Residenz in which they lived archbishops and princes, the castle of Maribel with the beautiful gardens ... Read full Blog post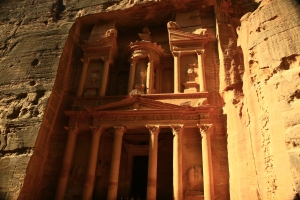 I wish I was Johann Ludwig Burckhardt
Some first encounters are ireplaceable, they can happen once and the impact is something you can't replicate afterwards, Imagine yourself being swiss explorer Johann Ludwig Burckhardt (why do they have to have such complicated names? whats wrong with just Van Dam??), Johann was an explorer and toured the middle east/african region back in the 18th century, GPS was still an expensive gadget for young ... Read full Blog post
Palace on Wheels : A Royal Luxury Train Tour in India
Palace on Wheels is one of the most popular luxury trains running in India. It presents a great chance to travelers from across the globe to explore the fabulous destination Rajasthan and Agra sitting in the lap of exquisite luxury of the train. It is a well-known fact that Indian royalty was too fond of luxury trains. The princes of various princely states got their trains customized in England ... Read full Blog post