48HourVisit.com

Planning a short visit? Check out

48HourVisit.com

, your online guide for short stays and weekend getaways.

Ad

The Glossary

Pares - "a popular stew made with pork or beef. it is soupy and usually spicy. it is mostly eaten as is or mixed with rice."
Palawan Travel Guide

/
Asia
/
Philippines
/
Palawan
/ Introduction
Palawan, considered as the Philippines' last frontier, has captured the imagination of travelers, local or foreign. The island-province is very popular, especially for the diving and snorkeling sites, and the jungle trails. There are also two UNESCO World Heritage Sites in Palawan: the world-famous diving destination the Tubbataha Reef and the Puerto Princesa Subterranean River National Park. Despite its distance from the rest of the country, Palawan is not that difficult to reach, given its ferry and plane connections to different airports and seaports.
The provincial capital Puerto Princesa is a popular starting point for tourists before exploring its islands. The city offers a number of urban amenities such as amusement parks, spas, and resorts. There is also the Palawan Museum, where visitors can survey ancient artifacts, even those found in "The Cradle of the Filipino Civilization," the Tabon Cave, where 2,000-year-old human bones were found.
The northern region of Palawan offers a number of pristine beaches and forests. The islands of Calamian Archipelago offer scenic views of the surrounding seas. Tourists can enjoy that magnificent sight while having a picnic near the limestone cliffs. The underwater wreckage of Japanese ships near Coron has made it one of the top 10 best scuba-diving sites recommended by respected magazines. To the south of the mini-archipelago is El Nido, famed for the immaculate beaches, splendid diving sites, and a grand vantage point of the limestone islands.
A good way to end a weekend in Palawan is by going to a Sunday tabuan (market day) in Aborlan. Any tourist will definitely have an unforgettable experience moving around the market, inspecting local handicraft, agricultural produce, and even rattan (a type of palm that resembles wicker) brought from the nearby communities to the town.
Palawan Landmarks:
Palawan Traveler Advice
Palawan photography
Puerto Princesa Subterrenean National Park by
chinxlexy

Road Yo to Heaven by
LeeLovesPesto
User blogs:
What to see in Salzburg, Austria
Salzburg is a charming town on the banks of the Salzach River. On the left bank, on top of the Monchsberg, stands the fortress, which dominates the center of town with many houses in the '500 and '600. In addition to wander through the streets and pastries, you can visit the Cathedral, the Residenz in which they lived archbishops and princes, the castle of Maribel with the beautiful gardens ... Read full Blog post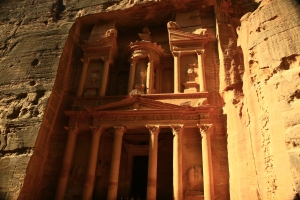 I wish I was Johann Ludwig Burckhardt
Some first encounters are ireplaceable, they can happen once and the impact is something you can't replicate afterwards, Imagine yourself being swiss explorer Johann Ludwig Burckhardt (why do they have to have such complicated names? whats wrong with just Van Dam??), Johann was an explorer and toured the middle east/african region back in the 18th century, GPS was still an expensive gadget for young ... Read full Blog post
Palace on Wheels : A Royal Luxury Train Tour in India
Palace on Wheels is one of the most popular luxury trains running in India. It presents a great chance to travelers from across the globe to explore the fabulous destination Rajasthan and Agra sitting in the lap of exquisite luxury of the train. It is a well-known fact that Indian royalty was too fond of luxury trains. The princes of various princely states got their trains customized in England ... Read full Blog post