48HourVisit.com

Planning a short visit? Check out

48HourVisit.com

, your online guide for short stays and weekend getaways.

Ad

The Glossary

tole - "another term for chowk, the main square or intersection with a market, the focal point of directions given by maps and locals and the starting point from which to locate landmarks."
A relic from Nepal's past, the quaint Newari village of Bungamati still roughly appears as it was centuries ago. Though most tourists probably would have never heard of it, it is a destination worthy of a visit if one is looking for a rural, laid-back, and old-fashioned getaway. Not far from the capital Kathmandu, Bungamati appears remote because of its lack of good roads and transportation. This, ironically, is a blessing in disguise since that is the key for the village not getting overwhelmed by development.
What Bungamati is most known for, however, is its excellent woodcraft. With some of the best wood carvers around, its streets are understandably lined with strings of shops and stalls offering visitors excellent handicraft goods at knockdown prices. Bungamati is not all about sculpting, however, as the local women also engage in various knitting and weaving trades. In fact, it is unusual to see tourists walking away from the village without even some kind of memento in hand to bring home.
Bungamati doesn't lack in sights, either. One can't go wrong visiting the Rato Machhendranath Temple, a monument dedicated to the village's patron guardian. It showcases a large prayer wheel, Tibetan Buddhist stupas, and most especially a bust of the patron, which however can only be seen for only half a year. The sleepy village comes alive during the festivals in which the bust is relocated to and from nearby Patan where it spends the other half of the year. The Karya Binayak Temple, on the other hand, was built to house a sacred stone, called Ganesh. In addition, it provides one with a bird's eye view of the village and the surrounding areas.
Bungamati Landmarks:
User blogs:
San Gimignano and San Pellegrino
Night falls on the flourishing and industrious San Gimignano, its 72 towers stand on the low roofs of the houses lit by the moon. This is not a luxury travel spot but is something you don't see every day. In the distance the clatter of hooves echoed tired in the Via Francigena. The hand of the blacksmith stops beating, the frame of the weaver becomes silent, the streets of the tank only a concert ... Read full Blog post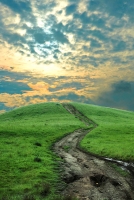 Travel and Inspire
"Our battered suitcases were piled on the sidewalk again; we had longer ways to go. But no matter, the road is life." - Jack Kerouac ... Read full Blog post