48HourVisit.com

Planning a short visit? Check out

48HourVisit.com

, your online guide for short stays and weekend getaways.

Ad

The Glossary

dhani - "local term for Nipa palm."
Kalaw's high terrain is Myanmar's take on a backpacker's Mecca. A variety of treks caters to both novice and true-blue hikers. The climate may be cool, but the generosity of the locals radiates warmth to tourists, making Kalaw a cozy mountain village. Located at the country's Mandalay division, the hill town Kalaw offers good elevations to conquer, genuine Burmese hospitality, and best of all: an inexpensive sojourn to a mystical place.
The mountains provide good vantage points for some of Myanmar's most beautiful rural panoramas. There are also plenty of indigenous tribes that have established settlements amidst Kalaw's lush topography, evidence to this are the villages of Palaung, Intha, and Shan. Visiting these communities allows tourists to learn of the natives' age-old customs; and if lucky, one may perchance to get to know the locals and be treated to some tea and fresh fruits. The local markets are ideal places to really get to know the variety of the populace that include even Nepalese and Indians, as well as people from the Gurkhas and Bamar tribes.
Numerous payas (Buddhist temples) are seen around Kalaw, the most notable being Aung Chang Tha Zedi, located down town Kalaw and famous for its stunning mosaics. On the other hand, heading to the western part of town will lead to Nee Paya featuring a gold-lacquered image of Buddha. A good number of accommodations and restaurants offer tourists a taste of Burmese mountain cuisine and culture.
User blogs:
Cheaper galactic spaceliner unveiled
News from http://news.ph.msn.com/top-stories/article.aspx?cp-documentid=3737940 Richard Branson unveiled Monday a commercial spaceliner offering tourists a cheaper chance to experience the thrill of weightlessness and view the splendor of the Earth from space. The British billionaire hopes to offer tickets aboard his spacecraft at a cost of 200,000 dollars each, giving adventurous ... Read full Blog post
Indonesia Eco Tourism
Tour Itenaray Day 01 BALI - LABUAN BAJO – RINCA ISLAND – KOMODO ISLAND (L.D) Pick up from your hotel in Bali and transfer to the airport, for flight to Labuan Bajo (West Flores) for approximately one and half hours. On arrival in Labuan Bajo airport, will be welcomed and met with our local representative or tour guide. Than transfer to the harbour to catch a boat cross to Rinca ... Read full Blog post
San Gimignano and San Pellegrino
Night falls on the flourishing and industrious San Gimignano, its 72 towers stand on the low roofs of the houses lit by the moon. This is not a luxury travel spot but is something you don't see every day. In the distance the clatter of hooves echoed tired in the Via Francigena. The hand of the blacksmith stops beating, the frame of the weaver becomes silent, the streets of the tank only a concert ... Read full Blog post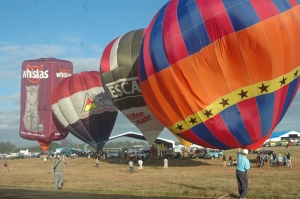 An Aerial fiesta in Clark Pampanga
Its a party in the sky as multi colored hot air balloons piloted ny different pilots from various partso of the world participated in this annual gathering. As early as 5am, the 2,500 hectare aviation complex at Clar Economic Zone in Pampanga was already crammedi with excitement. Clusters of hot air balloon participants busily prepare their own balloons for liftoff as they need to take advantage of ... Read full Blog post