48HourVisit.com

Planning a short visit? Check out

48HourVisit.com

, your online guide for short stays and weekend getaways.

Ad

The Glossary

Kyat - "The local currency of Myanmar."
Mawlamyine Travel Guide

/
Asia
/
Myanmar
/
Mawlamyine
/ Introduction
At first glance, Mawlamyine may seem like a forgotten city, with its crumbling colonial buildings and morose mood that seeps through every nook and cranny. Myanmar's third largest city however features a lot more than what meets the eye: it is home to the Mon people, their rich culture and deep Buddhist faith. Walking around the streets allows one to take the nostalgic attitude that the Mawlamyine exudes. Located at the southeastern stretch of the country, the city became the capital of British Burma during the first years of its conquest in the 19th century. Mawlamyine's (also called Moulmein) charm was so intriguing that it served as the inspiration to English author George Orwell's 1936 memoir, Shooting an Elephant.
The city offers a number of attractions that give tourists a sense of the local Mon culture. An ideal place to start is by going to the Mon Cultural Museum found in the northeastern side of town. The two-storey gallery displays a hefty collection of Mon artifacts such as ceramics, tools, and wooden sculptures. A better way to learn of townsfolk's fervent adherence to Buddha's teachings is by visiting the numerous payas (temples) that surround the city, the largest being the Mahamuni to the north and the tallest and most visible being Kyaikthanlan. These grandiose shrines embody the effort the locals exert to glorify Buddha. Having a number of Chinese and Muslim inhabitants, Mawlamyine also has majestic mosques, as the Kaladan Mosque and the Sunni Jamai Mosque with their turquoise exteriors.
Shopping is a good way to spend time in the city, and get to know the local people. Zeigyo (central market), is the most popular and famous for its inexpensive dry goods and other wares, as well as the items that have "fallen off the boat" on their way from Singapore.
User blogs:
Cheaper galactic spaceliner unveiled
News from http://news.ph.msn.com/top-stories/article.aspx?cp-documentid=3737940 Richard Branson unveiled Monday a commercial spaceliner offering tourists a cheaper chance to experience the thrill of weightlessness and view the splendor of the Earth from space. The British billionaire hopes to offer tickets aboard his spacecraft at a cost of 200,000 dollars each, giving adventurous ... Read full Blog post
Indonesia Eco Tourism
Tour Itenaray Day 01 BALI - LABUAN BAJO – RINCA ISLAND – KOMODO ISLAND (L.D) Pick up from your hotel in Bali and transfer to the airport, for flight to Labuan Bajo (West Flores) for approximately one and half hours. On arrival in Labuan Bajo airport, will be welcomed and met with our local representative or tour guide. Than transfer to the harbour to catch a boat cross to Rinca ... Read full Blog post
San Gimignano and San Pellegrino
Night falls on the flourishing and industrious San Gimignano, its 72 towers stand on the low roofs of the houses lit by the moon. This is not a luxury travel spot but is something you don't see every day. In the distance the clatter of hooves echoed tired in the Via Francigena. The hand of the blacksmith stops beating, the frame of the weaver becomes silent, the streets of the tank only a concert ... Read full Blog post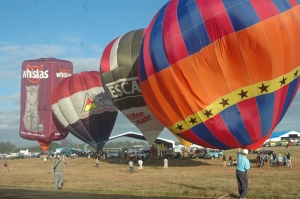 An Aerial fiesta in Clark Pampanga
Its a party in the sky as multi colored hot air balloons piloted ny different pilots from various partso of the world participated in this annual gathering. As early as 5am, the 2,500 hectare aviation complex at Clar Economic Zone in Pampanga was already crammedi with excitement. Clusters of hot air balloon participants busily prepare their own balloons for liftoff as they need to take advantage of ... Read full Blog post