48HourVisit.com

Planning a short visit? Check out

48HourVisit.com

, your online guide for short stays and weekend getaways.

Ad

The Glossary

chapas - "are local minibuses in Mozambique."
Tofo Travel Guide

/
Africa
/
Mozambique
/
Southern Mozambique
/
Tofo
/ Introduction
Quite distinct from the wild African safaris that Mozambique offers to the travelers, Tofo displays another attraction, a spit of shoreline famous as one of the most desired holiday spots for tourists around the world. It offers an ocean safari where visitors can possibly dive with the giant whale sharks and manta rays, swim with the dolphins and get in touch with a huge variety of ocean life down to the unspoilt seafloor.
A tiny town hemmed in the southern coast of Mozambique, Tofo has a shore that embraces the expanse of the Indian Ocean and the Ponto do Barra's peninsula of the Inhambane Province. The discovery of the full potential of Tofo's tropical beaches dotted with coconut palm groves and stylish lodges has created a sudden wave in the tourism scene of the town, and the spot is flocked not only by local holiday makers but also by a throng of European beachcombers and divers wanting to experience one great "drop-off" of a lifetime to one of the magnificent reefs of Tofo.
Other than the stunning breadth of its eight kilometer white sand beach, Tofo also boasts of grassy dunes perfect for a morning walk with the cool breeze of the ocean touching one's tired body, which seems to erase all the worries in just a few seconds.
Be it a family get-together, couples wanting some fun-filled adventure or backpackers desiring some sun-drenched chill, Tofo can possibly grant those little pleasures in abundance in addition to providing some delectable seafood on the table to savor before heading for a good night's sleep in one of the many chalets tucked along the coast.
For those seeking a vibrant evening, there are great bars and restaurants in the area where they can lounge and sip local beer or cocktail while sampling the local prawns and lobster displayed on the seafood bar.
Possible jump-off points after a trip to Tofo are the Barazuto Archipelago, just north of The Coast and the beaches of Praia de Zavala, Baia dos Cocos and Pomene. Visitors could also take a short trip to Inhambane which is a historical town and the second oldest town in Mozambique. Other interesting activities include visiting the souks and a dhow ride in the waterfront.
User blogs:
Cheaper galactic spaceliner unveiled
News from http://news.ph.msn.com/top-stories/article.aspx?cp-documentid=3737940 Richard Branson unveiled Monday a commercial spaceliner offering tourists a cheaper chance to experience the thrill of weightlessness and view the splendor of the Earth from space. The British billionaire hopes to offer tickets aboard his spacecraft at a cost of 200,000 dollars each, giving adventurous ... Read full Blog post
Indonesia Eco Tourism
Tour Itenaray Day 01 BALI - LABUAN BAJO – RINCA ISLAND – KOMODO ISLAND (L.D) Pick up from your hotel in Bali and transfer to the airport, for flight to Labuan Bajo (West Flores) for approximately one and half hours. On arrival in Labuan Bajo airport, will be welcomed and met with our local representative or tour guide. Than transfer to the harbour to catch a boat cross to Rinca ... Read full Blog post
San Gimignano and San Pellegrino
Night falls on the flourishing and industrious San Gimignano, its 72 towers stand on the low roofs of the houses lit by the moon. This is not a luxury travel spot but is something you don't see every day. In the distance the clatter of hooves echoed tired in the Via Francigena. The hand of the blacksmith stops beating, the frame of the weaver becomes silent, the streets of the tank only a concert ... Read full Blog post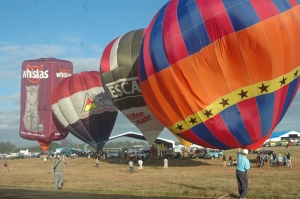 An Aerial fiesta in Clark Pampanga
Its a party in the sky as multi colored hot air balloons piloted ny different pilots from various partso of the world participated in this annual gathering. As early as 5am, the 2,500 hectare aviation complex at Clar Economic Zone in Pampanga was already crammedi with excitement. Clusters of hot air balloon participants busily prepare their own balloons for liftoff as they need to take advantage of ... Read full Blog post