48HourVisit.com

Planning a short visit? Check out

48HourVisit.com

, your online guide for short stays and weekend getaways.

Ad

The Glossary

chapas - "are local minibuses in Mozambique."
Northern Mozambique Travel Guide

/
Africa
/
Mozambique
/
Northern Mozambique
/ Introduction
Getting to this side of Mozambique entails wandering around the tangled streets of the UNESCO World Heritage Ilha de Mocambique, rummaging the wilderness of Niassa Reserve and Quirimbas Archipelago, walking barefoot to the immaculate beaches of Murrébuè, Praia de Windbi and Mecúf, snorkeling in the cool water of Lake Niassa, or relaxing in the comforts of one of the exclusive island resorts with a refreshing lemonade in hand.
Northern Mozambique is undeniably one of the undiscovered treasures of Africa which covers the provinces of Niassa, Nampula and Cabo Delgado. It is bordered by the hemline of Mossuril Bay and Mozambique Channel and hailed as the nature lover's den of the Black Continent. Much of the unspoilt landmass of Northern Mozambique is carpeted with gargantuan baobab trees and dense mangrove forests housing a plethora of African wildlife species such as the rare sea cow or dugong, huge schools of feeding barracuda, hawksbill turtles and red snappers.
Photographers will surely be delighted by the opportunity for photographic safaris in the Manda and where they can zoom in their lenses freely to the diverse collection of wildlife concentrated in the area, ranging from sable antelope, leopard and African wild dog to the huge elephants. Lucky are those who come between August and November as whales are abundant in The Coast at that time.
Backpackers will surely love the deep mangrove forests wherein they can track elephants at dusk with the help of their sturdy kayak. The truly adventurous can also discover the wild side of Northern Mozambique by conquering the hidden coves of Niassa Lake en route to some island getaway via wooden dhow to Quirimbas where they can visit the legendary Ibo Island.
More laidback activities are available for the less active crowd which include charter fishing on the banks of St. Lazarus, bird watching around Niassa Lake, a trip to the vibrant Pemba market, or simply lazing around under the canopy of the hot African sun.
User blogs:
Cheaper galactic spaceliner unveiled
News from http://news.ph.msn.com/top-stories/article.aspx?cp-documentid=3737940 Richard Branson unveiled Monday a commercial spaceliner offering tourists a cheaper chance to experience the thrill of weightlessness and view the splendor of the Earth from space. The British billionaire hopes to offer tickets aboard his spacecraft at a cost of 200,000 dollars each, giving adventurous ... Read full Blog post
Indonesia Eco Tourism
Tour Itenaray Day 01 BALI - LABUAN BAJO – RINCA ISLAND – KOMODO ISLAND (L.D) Pick up from your hotel in Bali and transfer to the airport, for flight to Labuan Bajo (West Flores) for approximately one and half hours. On arrival in Labuan Bajo airport, will be welcomed and met with our local representative or tour guide. Than transfer to the harbour to catch a boat cross to Rinca ... Read full Blog post
San Gimignano and San Pellegrino
Night falls on the flourishing and industrious San Gimignano, its 72 towers stand on the low roofs of the houses lit by the moon. This is not a luxury travel spot but is something you don't see every day. In the distance the clatter of hooves echoed tired in the Via Francigena. The hand of the blacksmith stops beating, the frame of the weaver becomes silent, the streets of the tank only a concert ... Read full Blog post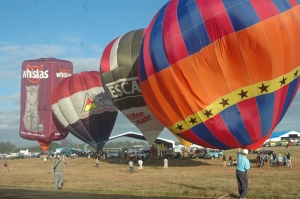 An Aerial fiesta in Clark Pampanga
Its a party in the sky as multi colored hot air balloons piloted ny different pilots from various partso of the world participated in this annual gathering. As early as 5am, the 2,500 hectare aviation complex at Clar Economic Zone in Pampanga was already crammedi with excitement. Clusters of hot air balloon participants busily prepare their own balloons for liftoff as they need to take advantage of ... Read full Blog post