48HourVisit.com

Planning a short visit? Check out

48HourVisit.com

, your online guide for short stays and weekend getaways.

Ad

The Glossary

makoros - "a sea-going canoes used by fisherman in Mozambique."
Maputo Travel Guide

/
Africa
/
Mozambique
/
Southern Mozambique
/
Maputo
/ Introduction
Once named Lourenco Marques after a Portuguese trader who was the first European to explore the area in 1544, Maputo is the capital and the largest city of Mozambique since 1898. It was only after the independence in 1975 that the city's name was changed to Maputo.
After the end of the harrowing war and the establishment of peace, Maputo is trying to evoke its former eminence. Visitors can now freely roam around the well-planned city dotted with square blocks, wide avenues, manicured gardens and the typical architecture of the 1970's elbowing the new buildings in the old town Baixa. From here, they can opt to rent a ferry ride to tour around the historic Maputo or simply walk to the lower city to marvel at the colossal Nossa Senhora da Conceição. Just to the left of the white-spire cathedral is the Conselho Executivo which was the civic center of the city. There lies the square of Josina Machel, named after Mozambique's former first lady.
About four blocks away is the Louis Tregardt Trek Memorial Garden which reminds its inhabitants of the unsuccessful attempts made by the Transvaal Boers to secure a seaport in Maputo in the 19th century. From this famous landmark, visitors can jaunt to the Casa de Ferro or the French Cultural Center, designed by the renowned French engineer Alexandre Eiffel.
Completing the Mozambique experience is a visit to the chapas and the Jardim Tunduro Botanical Gardens standing across the towering statue of Samora Machel. Downhill, the city's bustling market offers visitors with a festive array of stalls selling a wide array of local produce including spices, handicrafts, and some aromatic traditional medicines.
For a quick bite, cafes in the sidewalks sell some lip smacking Mozambique food item like the pãozinho (Portuguese Rolls), sandes de queijo (Baked Cheese Sandwich), malasadas (doughnuts) and the famous matata (seafood and peanut stew).
Maputo Landmarks:
User blogs:
Cheaper galactic spaceliner unveiled
News from http://news.ph.msn.com/top-stories/article.aspx?cp-documentid=3737940 Richard Branson unveiled Monday a commercial spaceliner offering tourists a cheaper chance to experience the thrill of weightlessness and view the splendor of the Earth from space. The British billionaire hopes to offer tickets aboard his spacecraft at a cost of 200,000 dollars each, giving adventurous ... Read full Blog post
Indonesia Eco Tourism
Tour Itenaray Day 01 BALI - LABUAN BAJO – RINCA ISLAND – KOMODO ISLAND (L.D) Pick up from your hotel in Bali and transfer to the airport, for flight to Labuan Bajo (West Flores) for approximately one and half hours. On arrival in Labuan Bajo airport, will be welcomed and met with our local representative or tour guide. Than transfer to the harbour to catch a boat cross to Rinca ... Read full Blog post
San Gimignano and San Pellegrino
Night falls on the flourishing and industrious San Gimignano, its 72 towers stand on the low roofs of the houses lit by the moon. This is not a luxury travel spot but is something you don't see every day. In the distance the clatter of hooves echoed tired in the Via Francigena. The hand of the blacksmith stops beating, the frame of the weaver becomes silent, the streets of the tank only a concert ... Read full Blog post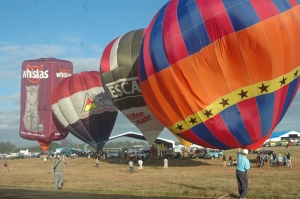 An Aerial fiesta in Clark Pampanga
Its a party in the sky as multi colored hot air balloons piloted ny different pilots from various partso of the world participated in this annual gathering. As early as 5am, the 2,500 hectare aviation complex at Clar Economic Zone in Pampanga was already crammedi with excitement. Clusters of hot air balloon participants busily prepare their own balloons for liftoff as they need to take advantage of ... Read full Blog post