48HourVisit.com

Planning a short visit? Check out

48HourVisit.com

, your online guide for short stays and weekend getaways.

Ad

The Glossary

yokwe - "means "hello," "aloha," "love" or "goodbye.""
Majuro Travel Guide

/
South Pacific
/
Marshall Island
/
Majuro
/ Introduction
Two-thirds of the Marshallese population live in the capital Majuro, the nation's political, economic and transport center built on the 64-island atoll of Majuro. Scottish writer Robert Louis Stevenson, author of Dr. Jekyll and Mr. Hyde, called Majuro "the pearl of the Pacific." While the capital's living conditions have degraded since Stevenson's visit, there are still postcard-worthy settings left in Majuro that remain loyal to his descriptions like that of the main attraction, Laura Beach, a white-sand stretch famous for picnics. The Majuro Atoll itself has a few things to offer itself apart from the nearby port, shopping district, hotels and an international airport, which makes it a good base for examining the surrounding islands. For an early-evening sport fishing and diving, there is the D-U-D Lagoon, a 30-mile yacht away from Laura. Forty-five minutes from Majuro's Uliga Island is the small atoll of Enoko, a destination for day trips or overnight stays. Some tourists even rent the whole Enoko to keep it to themselves for a day or a night. For those who do not have their own yacht, island hopping can be done through cruises or on the traditional outrigger canoes. Sailing is particularly popular at the Majuro Lagoon. Majuro's main road is also a beehive of taxis offering inexpensive fares anywhere in the city, except on the route to Laura Beach, where the cheaper transportation means is the bus. Years of dependence on the United States has made Majuro heavily westernized. Schools are everywhere, and million-dollar homes sit next to rusting tin dwellings. Hamburger and other imports have found their way on the traditional menu of breadfruit, arrowroot, pandanus and taro. Nonetheless, parts and parcels of native customs still linger, like the tattooed elderly males and females recalling their warrior past. Souvenir shops and supermarkets also offer native handicrafts like coconut husk hats, mats, bags, and other thingamajigs made of shells, jab (hibiscus fibers) and malwe (coconut frond).
User blogs:
Cheaper galactic spaceliner unveiled
News from http://news.ph.msn.com/top-stories/article.aspx?cp-documentid=3737940 Richard Branson unveiled Monday a commercial spaceliner offering tourists a cheaper chance to experience the thrill of weightlessness and view the splendor of the Earth from space. The British billionaire hopes to offer tickets aboard his spacecraft at a cost of 200,000 dollars each, giving adventurous ... Read full Blog post
Indonesia Eco Tourism
Tour Itenaray Day 01 BALI - LABUAN BAJO – RINCA ISLAND – KOMODO ISLAND (L.D) Pick up from your hotel in Bali and transfer to the airport, for flight to Labuan Bajo (West Flores) for approximately one and half hours. On arrival in Labuan Bajo airport, will be welcomed and met with our local representative or tour guide. Than transfer to the harbour to catch a boat cross to Rinca ... Read full Blog post
San Gimignano and San Pellegrino
Night falls on the flourishing and industrious San Gimignano, its 72 towers stand on the low roofs of the houses lit by the moon. This is not a luxury travel spot but is something you don't see every day. In the distance the clatter of hooves echoed tired in the Via Francigena. The hand of the blacksmith stops beating, the frame of the weaver becomes silent, the streets of the tank only a concert ... Read full Blog post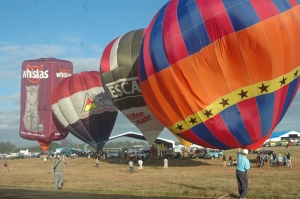 An Aerial fiesta in Clark Pampanga
Its a party in the sky as multi colored hot air balloons piloted ny different pilots from various partso of the world participated in this annual gathering. As early as 5am, the 2,500 hectare aviation complex at Clar Economic Zone in Pampanga was already crammedi with excitement. Clusters of hot air balloon participants busily prepare their own balloons for liftoff as they need to take advantage of ... Read full Blog post