48HourVisit.com

Planning a short visit? Check out

48HourVisit.com

, your online guide for short stays and weekend getaways.

Ad

The Glossary

tamu - "local market in Malaysia usually open during Sundays."
Sabah is known as the "Land below the Wind," as it is just below the typhoon-prone areas in Asia. Although it is known as the second largest state of Malaysia, its ownership is still in dispute. The Philippines, which is located northwest of Borneo, has, time and again, asserted claim on its eastern territory. Fortunately, that claim has lost its vigor in the recent past. Blessed with abundant natural resources and wildlife, Sabah takes pride especially on account of its eco-tourism.
The territory of Sabah consists mostly of mountainous terrains, including three of Malaysia's tallest mountains, Mt. Kinabalu being the tallest. In the lowlands are a number of nature parks, and conservation facilities that show off the grandeur of Sabah's organic surroundings. The tropical climate gives life to a myriad of rare species of flora and fauna that are endemic to Sabah. It also ensures tourist presence almost throughout the year. Tourist attractions are not confined to the rustic regions. In the city are numerous landmarks and structures that reflect the many influences exerted on Sabah over the years.
The food available in Sabah reflects the diversity of the culture that is found in the state as well as in the rest of the country. Malay cuisine is prevalent, and one popular treat street vendors sell is the satay that is sliced and seasoned meat skewered on bamboo sticks. Chinese dim sum and Indian food are also available, and they add to the variety of the local cuisine. Meanwhile, shopping in Sabah requires knowledge about what one is looking for, as well as where to look for it. The tamus or markets offer great finds, from the commonly seen to the exotic. Stores offer a range of products that are distinctly Malaysian.
Sabah holds so much potential to progress that it is surely one state never to be given up. It may be the last of Malaysia's frontiers, but it is certainly not the least.
Sabah Landmarks:
Sabah photography

At the base camp of Mt. Kinabalu by
SeaChild
User blogs:
What to see in Salzburg, Austria
Salzburg is a charming town on the banks of the Salzach River. On the left bank, on top of the Monchsberg, stands the fortress, which dominates the center of town with many houses in the '500 and '600. In addition to wander through the streets and pastries, you can visit the Cathedral, the Residenz in which they lived archbishops and princes, the castle of Maribel with the beautiful gardens ... Read full Blog post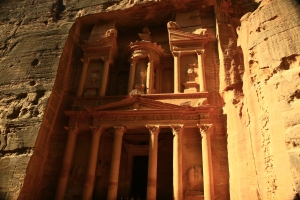 I wish I was Johann Ludwig Burckhardt
Some first encounters are ireplaceable, they can happen once and the impact is something you can't replicate afterwards, Imagine yourself being swiss explorer Johann Ludwig Burckhardt (why do they have to have such complicated names? whats wrong with just Van Dam??), Johann was an explorer and toured the middle east/african region back in the 18th century, GPS was still an expensive gadget for young ... Read full Blog post
Palace on Wheels : A Royal Luxury Train Tour in India
Palace on Wheels is one of the most popular luxury trains running in India. It presents a great chance to travelers from across the globe to explore the fabulous destination Rajasthan and Agra sitting in the lap of exquisite luxury of the train. It is a well-known fact that Indian royalty was too fond of luxury trains. The princes of various princely states got their trains customized in England ... Read full Blog post