48HourVisit.com

Planning a short visit? Check out

48HourVisit.com

, your online guide for short stays and weekend getaways.

Ad

The Glossary

Selamat Pagi - "mean Good Morning"
Pulau Tioman Travel Guide

/
Asia
/
Malaysia
/
Pulau Tioman
/ Introduction
The legend of the fabled dragon princess surrounds the enigmatic Pulao Tionman which was included as the world's most beautiful island by the Time Magazine during the '70s. It is also the setting of the award-winning Hollywood flick South Pacific. Dubbed as the "Bali Hai" of Malaysia, Pulao Tioman boasts of its dense forest inhabited by a great variety of flora and fauna and its 20 dive sites such as Rengis, Tulaiand Sembilang.
Hemmed in The East coast of Pahang, the turtle-shaped island is also surrounded by a rising number of chalets, resorts and suites contributing to its reputation as a tropical getaway in South China Sea. In addition, Pulao Tioman's real treasure lies beyond its shore where coral reefs and marine life enchant tourists with black tip sharks and manta rays.
For the truly adventurous, the twin peaks of Gunung Nenek Semukut (Old Lady of Semukut), which is more than twice the height of the Eiffel Tower, can be a good warm up before conquering the adrenaline-pumping ascent of Mount Kajang renowned as the highest peak on the island.
Apart from jungle trekking, Air Batang and Juara Beach can be an excellent venue for fun-filled water sports activities such as snorkeling, scuba diving and water skiing. Deep-sea fishing at Pulao Tioman is also probable for the sheer experience of catching fresh tuna, sea bass or blue marlin for a sumptuous barbecue on the beach.
A visit to one of the eight villages in the island, such as Kampung Tekek which is the largest, may provide a cultural perspective to a visit in Pulao Tioman. Another essential inclusion may be the sunset-viewing at Tioman Marine Park or a quick dip at Asah Waterfalls.
Pulau Tioman Landmarks:
Pulau Tioman Traveler Advice
User blogs:
VEDDHAS IN SRI LANKA
The term Vadda must have derived form the Pali and Sanskrit word Vddha meaning hunter or huntsman.According to Wilhelm Geiger Vaddas of Sri Lanka were an aboriginal tribe perhaps related to the ancient tribes of south India. They were inhabiting the island long before the coming of Aryans an had spread all over the island and later confined only to Vadi rata or Maha Vadi rata consisting of ... Read full Blog post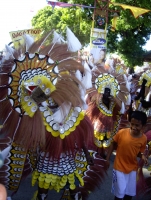 Ati-atihan in Kalibo Aklan
Ati-atihand origins ccan be traced to 1210 when refugees from Borneo would smear their faces with soot in affectionalte immitation of the Filipino natives The island of Panay in the Visayas is where this particular detail of Philipine history took place sometime ih the late 12th or early 13th century. For centuries hence, it has been commemoratged in one specific place - in Kalibo, the capital ... Read full Blog post
Amorgos | An unusualy beautiful island in Greece
At the eastern end of the Cyclades, next to the Dodecanese islands, with its elongated shape and the rocky nature, Amorgos is 138 nautical miles from Piraeus (about 9 hours by ferry) and has an area of ??134 square kilometers. According to a financial blog they are investing in many tourist attractions and amenities. If you decide to get there from Piraeus the trip is much easier, since you ... Read full Blog post
San Gimignano and San Pellegrino
Night falls on the flourishing and industrious San Gimignano, its 72 towers stand on the low roofs of the houses lit by the moon. This is not a luxury travel spot but is something you don't see every day. In the distance the clatter of hooves echoed tired in the Via Francigena. The hand of the blacksmith stops beating, the frame of the weaver becomes silent, the streets of the tank only a concert ... Read full Blog post