48HourVisit.com

Planning a short visit? Check out

48HourVisit.com

, your online guide for short stays and weekend getaways.

Ad

The Glossary

tamu - "local market in Malaysia usually open during Sundays."
Pulau Pangkor Travel Guide

/
Asia
/
Malaysia
/
Pulau Pangkor
/ Introduction
Nestled just off the West Coast of Perak, Pulao Pangkor is one of the most enthralling islands tourist will ever come across. During the old days, the island was the sanctuary of fishermen, merchants and sailors who traversed the Straits of Malacca. Its idyllic coves made it as the perfect stopover and hideaway of pirates.
In stark contrast to Kuala Lumpur's fast-pace progress, Pulao Pangkor remains a haven for those seeking to get away from the tedious and repetitive cycle of city life. Here, visitors can do all sort of water-based activities such as boating, fishing, kayaking and rafting on the numerous beaches such as the Pasir Bogak, Teluk Nipah, Teluk Belanga, in the unspoilt waters of Coral Bay known for its emerald green waters.
Camping and jungle trekking within the tropical rainforests of Teluk Segadas and Titi Gantung can be a good start of outdoor recreation and team-building programs especially for the active young adults and to the adventurous crowd. The site can also be a good start for all sorts of activities such as abseiling, rafting, rappelling and canoeing.
Ruled by the European conquerors till 1874, Pulau (Island) Pangkor seems oblivious to the ravages of war for its natural wonders have remained unscathed. Perhaps, it is meant only to conquer the heart of the weary travelers as they will be charmed by the tranquility of its quaint fishing villages and longhouses and its splendid selection of world-class holiday resorts, and other amenities.
Getting to Pangkor Island
Two ways - either by flight or ferry ride. if you choose to have a flight, there is a flight from Sultan Abdul Aziz Shah Airport (in Selangor) to an airport in Pangkor. But if you choose to get a ferry ride, head to Lumut, the nearest town on mainland. Then, have a ferry from there and you will reach Pangkor.
Pulau Pangkor Landmarks:
User blogs:
The Easy Way to Find Your Next Flight
Not everyone has experienced the convenience of looking for and booking air travel online. For some people who are not used to online shopping, or for those learning how to browse for the first time it can be a little intimidating at first. It seems like there are a lot of advertisements telling people where to go to book their flight online, but not many articles that take a step-by-step approach ... Read full Blog post
The biggest problem traveling with Bike
The biggest problem for traveling by bike is Transport to the start and from the end of our trip. As a personal trainer I had no big problem with this but I remember like it was yesterday, especially when they come these hot days, when we were kids (that a few decades ago) the only opportunity we had to practice was to grab our bikes cycling, upload them to the door of our house and out from ... Read full Blog post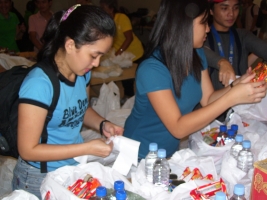 Volunteering for typhoon Ketsana victims
"There's nothing stronger than the heart of a volunteer," says a general in the movie Pearl Harbor. True enough, typhoon Ondoy (internationally nicknamed Ketsana) may have proven its might by destroying hundreds of lives and hundreds more in houses and properties, yet this monster-of-a-calamity did not win in devastating the faith and Good Samaritan-spirit of thousands of men and ... Read full Blog post