48HourVisit.com

Planning a short visit? Check out

48HourVisit.com

, your online guide for short stays and weekend getaways.

Ad

The Glossary

beli - "mean buy"
Pulau Labuan Travel Guide

/
Asia
/
Malaysia
/
Pulau Labuan
/ Introduction
Once a colonial outpost of the British, Pulau Labuan is now enjoying its "freedom" as a free trade zone under the Malaysian government. With its balmy, tropical climate congenial for all kinds of fish and marine life to thrive in its pristine coral reefs, it obviously has the potential of becoming Asia's most desirable destination.
Blessed with world-class diving sites around sunken World War ships, Pulau Labuan is certainly a diver's paradise. No true-blooded diver will toss aside the opportunity to see the spectacular wreck sites such as the Blue Water Wreck, the Cement Wreck, the American Wreck and the Australian Wreck.
The mile long beaches of Pantai Pancur Hitam and Pohon Batu are dotted with exclusive resorts, hotels, golf course and a duty-free shop that carries a wide range of locally produced goods as well as imported ones. The venue also serves as a hangout for locals and tourists to have a seaside picnic during the weekend.
The numerous activities such as bird watching in the Labuan Bird Park and island hopping to the nearby islands of Pulau Rusukan Besar, Pulau Kencil and Pulau Kuraman, which houses some of the endangered marine life and coral reefs protected by the Labuan Marine Park, will keep the divers occupied after their strenuous dives.
Pulau Labuan is not only endowed with natural splendors but also has a significant historical value. The island had experienced various rules under various British and Japanese empires. It had even been renamed once under the Japanese occupation as Maeda. Then came World War II, and once again the island was under a turmoil, which explains why there are a War Cemetery, a Japanese Park and an Allied Landing Point attracting local and foreign visitors alike.
While fresh seafood and mouth-watering rendang (dry curry of beef, chicken or mutton) tickle the palates of the tourists, quality pearls and crystals made into brooch, pendants and bracelets, will mesmerize the eyes of the ladies. They can also go for some beautiful sarong batiks which can be purchased from some nearby bazaars in Labuan.
Pulau Labuan Landmarks:
User blogs:
VEDDHAS IN SRI LANKA
The term Vadda must have derived form the Pali and Sanskrit word Vddha meaning hunter or huntsman.According to Wilhelm Geiger Vaddas of Sri Lanka were an aboriginal tribe perhaps related to the ancient tribes of south India. They were inhabiting the island long before the coming of Aryans an had spread all over the island and later confined only to Vadi rata or Maha Vadi rata consisting of ... Read full Blog post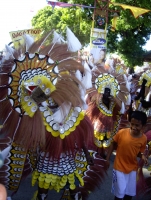 Ati-atihan in Kalibo Aklan
Ati-atihand origins ccan be traced to 1210 when refugees from Borneo would smear their faces with soot in affectionalte immitation of the Filipino natives The island of Panay in the Visayas is where this particular detail of Philipine history took place sometime ih the late 12th or early 13th century. For centuries hence, it has been commemoratged in one specific place - in Kalibo, the capital ... Read full Blog post
Amorgos | An unusualy beautiful island in Greece
At the eastern end of the Cyclades, next to the Dodecanese islands, with its elongated shape and the rocky nature, Amorgos is 138 nautical miles from Piraeus (about 9 hours by ferry) and has an area of ??134 square kilometers. According to a financial blog they are investing in many tourist attractions and amenities. If you decide to get there from Piraeus the trip is much easier, since you ... Read full Blog post
San Gimignano and San Pellegrino
Night falls on the flourishing and industrious San Gimignano, its 72 towers stand on the low roofs of the houses lit by the moon. This is not a luxury travel spot but is something you don't see every day. In the distance the clatter of hooves echoed tired in the Via Francigena. The hand of the blacksmith stops beating, the frame of the weaver becomes silent, the streets of the tank only a concert ... Read full Blog post