48HourVisit.com

Planning a short visit? Check out

48HourVisit.com

, your online guide for short stays and weekend getaways.

Ad

The Glossary

beli - "mean buy"
A UNESCO World Heritage Site, Melaka is the historical Malacca, the third smallest Malaysian state and one of the world's oldest sultanates. Since it straddles along one of the planet's most important shipping lanes, the Strait of Malacca, Melaka became one of Earth's richest and most powerful empires during its prime. Centuries of trade made Melaka a repository of diverse cultures, cuisines, and traditions, exemplifying the multi-cultural identity of Malaysia.
Colonial Portuguese
With Malaysia's burgeoning economy, Melaka has promptly taken a ride on the waves of development. Hence, from looking wholly historical, the state's capital, Melaka Town, is now divided into two sections: the old and the new.
The fairly compact older section highlights colonial ruins and settlements used by the Portuguese, who occupied the state in the 16th century following Ferdinand Magellan's conquest of Melaka. Among these remnants is St. Paul Hill, home to the ruins of A'Famosa, a 16th century fortress saved from demolition by Sir Stamford Raffles, the British founder of Singapore.
Near it is the 16th century Dutch Square. Other landmarks handed down by the Dutch include Christ Church, Stadthuys, St. John Fort, Portuguese Settlement, St. Paul Fort, St. Peter Church, St. Theresa Church, Victoria Fountain, St. Francis Xavier Church, and St. Paul Church, where the missionary Saint Francis Xavier was buried.
Malay and Islamic art
Reminiscent of the state's Malay and Muslim roots are the mausoleums of Hang Jebat and Hang Katsuri, as well as the Sultan's Well and the mosques of Kampung Hulu, Kampung Kling, Tanquerah, and the modern Masjid Selat Melaka.
Modern conveniences
Melaka's new section sees the boom of real estate, with the rise of convention centers, shopping centers like Mahkota Parade, food and entertainment districts, and hospitals in response to medical tourism.
Modernization also takes place on the town's outskirts, where beaches and offshore islands like Pulau Melaka, Pulau Upeh, Pulau Besar, and Klebang Beach are being dolled up with modern resorts, dive centers, recreational theme parks, and a golf course.
Melaka Landmarks:
Melaka Traveler Advice
User blogs:
VEDDHAS IN SRI LANKA
The term Vadda must have derived form the Pali and Sanskrit word Vddha meaning hunter or huntsman.According to Wilhelm Geiger Vaddas of Sri Lanka were an aboriginal tribe perhaps related to the ancient tribes of south India. They were inhabiting the island long before the coming of Aryans an had spread all over the island and later confined only to Vadi rata or Maha Vadi rata consisting of ... Read full Blog post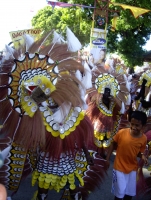 Ati-atihan in Kalibo Aklan
Ati-atihand origins ccan be traced to 1210 when refugees from Borneo would smear their faces with soot in affectionalte immitation of the Filipino natives The island of Panay in the Visayas is where this particular detail of Philipine history took place sometime ih the late 12th or early 13th century. For centuries hence, it has been commemoratged in one specific place - in Kalibo, the capital ... Read full Blog post
Amorgos | An unusualy beautiful island in Greece
At the eastern end of the Cyclades, next to the Dodecanese islands, with its elongated shape and the rocky nature, Amorgos is 138 nautical miles from Piraeus (about 9 hours by ferry) and has an area of ??134 square kilometers. According to a financial blog they are investing in many tourist attractions and amenities. If you decide to get there from Piraeus the trip is much easier, since you ... Read full Blog post
San Gimignano and San Pellegrino
Night falls on the flourishing and industrious San Gimignano, its 72 towers stand on the low roofs of the houses lit by the moon. This is not a luxury travel spot but is something you don't see every day. In the distance the clatter of hooves echoed tired in the Via Francigena. The hand of the blacksmith stops beating, the frame of the weaver becomes silent, the streets of the tank only a concert ... Read full Blog post