48HourVisit.com

Planning a short visit? Check out

48HourVisit.com

, your online guide for short stays and weekend getaways.

Ad

The Glossary

kopitiam - "coffee shop"
Kota Bharu Travel Guide

/
Asia
/
Malaysia
/
Kelantan
/
Kota Bharu
/ Introduction
Kota Bahru is strictly a Moslem town, where Friday is not a working day and sharia (Islamic law) is strictly enforced. A good place to immerse and sample traditional Malay culture, the place provides visual feasts of its day and night markets. Several royal palaces (Istana Balai Besar and Istana Batu) and museums (Bank Kerapu, Istana Jahar and Kampung Kraftangan) offer indirect lessons for cultural and religious sensibility.
Visitors can sample the local delicacies such as ayam percik (spicy barbecue chicken) and the nasi ulam (herbed rice) or learn the secrets of traditional Malay kite-making straight from the masters. Batik fabrics are also sold in the market for a good price. Those who happen to pass by at Kota Bahru are more likely to explore the surrounding regions of Bukit Bunga, Kuala Krai and Tumpat.
Kota Bharu Landmarks:
User blogs: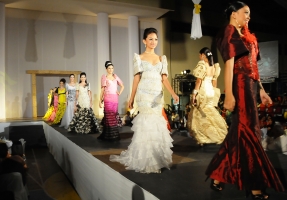 Pinukpok Fashion show in Legaspi Albay, Philippines
The Philippine Terno and the Barong, the graceful Filipino formal dress and male wear that has been around since the turn of the century, has never really lost its place as chic formal or evening wear as local couture houses and yound new Bicol fashion designers like Klang Arispe andDanny Clint have done much to make ethnic handloomed fabrics like abaca, have single handedly kept alive the province's ... Read full Blog post
What to see in Salzburg, Austria
Salzburg is a charming town on the banks of the Salzach River. On the left bank, on top of the Monchsberg, stands the fortress, which dominates the center of town with many houses in the '500 and '600. In addition to wander through the streets and pastries, you can visit the Cathedral, the Residenz in which they lived archbishops and princes, the castle of Maribel with the beautiful gardens ... Read full Blog post