48HourVisit.com

Planning a short visit? Check out

48HourVisit.com

, your online guide for short stays and weekend getaways.

Ad

The Glossary

Arak - "a triple-distilled spirit of grapes and is famous throughout the Middle East. It is colorless like water and tastes of aniseed which is introduced at the third distillation."
Tripoli Travel Guide

/
Middle East
/
Lebanon
/
Tripoli
/ Introduction
Tripoli (not to be mistaken for Tripoli in Libya) which is Trablous in Arabic, has an inimitable character, quite different from the glitzy and sleek city of Beirut. Could it be its palpable historical wealth and laid-back lifestyle or its flourishing business climate? Though the city may not be imposingly modern, it has its own streak of sophistication with a medieval blend, populated with a lively and hospitable metropolis of Sunni Muslims.
Under the unconquerable Crusaders, Tripoli became an eastern Mediterranean port where Pisans, Arabs and Jews ran shipyards, fisheries, textile shops and orange groves. Its sugar traders were famously innovative and were among the first to cater to the European's sweet tooth.
The well-fortified city fended off three sieges in the 13th century. The last two were by the formidable Al-Zahir Baybars, a Mamluk sultan who had become a Muslim hero in 1260, fighting in the vanguard of Sultan Al-Muzzafar Qutuz's victory over the Mongols at 'Ain Jalut.
The city is peppered with a whole range of religious, civil and military edifices such as mosques from the Ottoman and Mamluk times and the Muslim schools called madrassah along with the remains of the medieval Mamluk architecture. The souks, together with the khans (caravansary) form a commune of various trades where tailors, jewelers and tanners work in harmony in a surrounding that has changed very little over the last 500 years.
Today, Tripoli is a crowded den of dilapidated charm: like a labyrinth, the city remains difficult to navigate. The stems of satellite dishes poke out of the old slit windows of apartments while the sugarcane fields between Al-Mina and the Mamluk city brim with ranks of apartment buildings whose drabness is compensated by the scenery: the sea on the right side and the snow-capped mountain on the other.
The recent dispute between the Palestinians and the Lebanese army makes the atmosphere bleak and dreary making it difficult for Tripoli to persuade tourists to see its hidden splendor. However, Lebanon's souks, castles and mosques will surely enthrall the traveler.
User blogs:
Cheaper galactic spaceliner unveiled
News from http://news.ph.msn.com/top-stories/article.aspx?cp-documentid=3737940 Richard Branson unveiled Monday a commercial spaceliner offering tourists a cheaper chance to experience the thrill of weightlessness and view the splendor of the Earth from space. The British billionaire hopes to offer tickets aboard his spacecraft at a cost of 200,000 dollars each, giving adventurous ... Read full Blog post
Indonesia Eco Tourism
Tour Itenaray Day 01 BALI - LABUAN BAJO – RINCA ISLAND – KOMODO ISLAND (L.D) Pick up from your hotel in Bali and transfer to the airport, for flight to Labuan Bajo (West Flores) for approximately one and half hours. On arrival in Labuan Bajo airport, will be welcomed and met with our local representative or tour guide. Than transfer to the harbour to catch a boat cross to Rinca ... Read full Blog post
San Gimignano and San Pellegrino
Night falls on the flourishing and industrious San Gimignano, its 72 towers stand on the low roofs of the houses lit by the moon. This is not a luxury travel spot but is something you don't see every day. In the distance the clatter of hooves echoed tired in the Via Francigena. The hand of the blacksmith stops beating, the frame of the weaver becomes silent, the streets of the tank only a concert ... Read full Blog post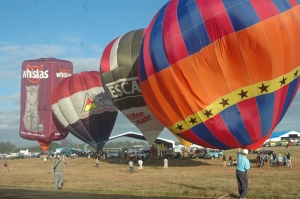 An Aerial fiesta in Clark Pampanga
Its a party in the sky as multi colored hot air balloons piloted ny different pilots from various partso of the world participated in this annual gathering. As early as 5am, the 2,500 hectare aviation complex at Clar Economic Zone in Pampanga was already crammedi with excitement. Clusters of hot air balloon participants busily prepare their own balloons for liftoff as they need to take advantage of ... Read full Blog post