48HourVisit.com

Planning a short visit? Check out

48HourVisit.com

, your online guide for short stays and weekend getaways.

Ad
The charming Viljandi is one of the most popular cities in Estonia. It is one of the oldest as well, with a history believed to date back to around 500 BC. Situated in the hills of the country's southern region, it was settled by the Hanseatic people at around the 14th century. The Hanseatics lent a rich cultural heritage to the city. Viljandi, in fact, is often called as Estonia's "Capital of Folk Music," and is well-known for its annual Viljandi Folk Festival—a four-day event celebrated with more than 100 concerts conducted in different venues around the city.
The highlight of a visit to Viljandi is the impressive Viljandi Castle, which was reputed to have been one of the strongest fortifications in the land during its heyday. Built in 1224, it sits on a hilltop overlooking the surrounding areas. It served as the seat of power for the ruling royalty. One can see inside the complex a convent house that was commissioned by the famous Teutonic Knights between the 13th and the 14th centuries. It was destroyed, however, in the 17th century by the Polish-Swedish Wars, and was only restored in the 19th century. It also usually plays host to one of the concerts held during the Viljandi Folk Festival.
Another point of interest in the city is the Olustvere Manor, which stands as one of the best-preserved examples of a manor complex in the country. It embellishes a Swiss Chalet style of architecture. There is also the lovely Lake Vortsjarv, which is considered as the second largest in Estonia. Found right in the country's heart, it spans to an area of 270 square kilometers. Most of it, though, is only good for sightseeing, as most of its brooks are filled with bogs and damp lowlands. The lake's northern shores, however, are its saving grace, with shallow waters ideal for swimming and grassy banks good for a picnic.
Nature lovers may want to head to the Soomaa National Park, a wildlife reserve that is the second largest in Estonia. Established in 1993, it roughly measures to 390 square kilometers in area. Its name literally means "Land of Bogs"; and true to such reputation, the park's landscape is characterized by raised bogs, flooded grasslands, and forests. It serves as a sanctuary to a host of flora and fauna, and one can see there roe deer, wild boars, lynxes, wolves, elks, and rare orchids.
User blogs:
Cheaper galactic spaceliner unveiled
News from http://news.ph.msn.com/top-stories/article.aspx?cp-documentid=3737940 Richard Branson unveiled Monday a commercial spaceliner offering tourists a cheaper chance to experience the thrill of weightlessness and view the splendor of the Earth from space. The British billionaire hopes to offer tickets aboard his spacecraft at a cost of 200,000 dollars each, giving adventurous ... Read full Blog post
Indonesia Eco Tourism
Tour Itenaray Day 01 BALI - LABUAN BAJO – RINCA ISLAND – KOMODO ISLAND (L.D) Pick up from your hotel in Bali and transfer to the airport, for flight to Labuan Bajo (West Flores) for approximately one and half hours. On arrival in Labuan Bajo airport, will be welcomed and met with our local representative or tour guide. Than transfer to the harbour to catch a boat cross to Rinca ... Read full Blog post
San Gimignano and San Pellegrino
Night falls on the flourishing and industrious San Gimignano, its 72 towers stand on the low roofs of the houses lit by the moon. This is not a luxury travel spot but is something you don't see every day. In the distance the clatter of hooves echoed tired in the Via Francigena. The hand of the blacksmith stops beating, the frame of the weaver becomes silent, the streets of the tank only a concert ... Read full Blog post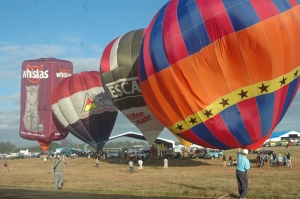 An Aerial fiesta in Clark Pampanga
Its a party in the sky as multi colored hot air balloons piloted ny different pilots from various partso of the world participated in this annual gathering. As early as 5am, the 2,500 hectare aviation complex at Clar Economic Zone in Pampanga was already crammedi with excitement. Clusters of hot air balloon participants busily prepare their own balloons for liftoff as they need to take advantage of ... Read full Blog post