48HourVisit.com

Planning a short visit? Check out

48HourVisit.com

, your online guide for short stays and weekend getaways.

Ad
The city of Tartu doubles as Estonia's spiritual capital and second largest settlement. It is considered as the oldest among the Baltic States, first mentioned in historical records as early as 1030. Dissected by the Emajogi River, it served as the cradle of a 19th century national revival that focused on preserving the town's classic 18th century buildings and other cultural heritage. Thus, it is one of the few cities in Estonia that have come out relatively unscathed from the "Sovietization" that occurred during the rule of the Soviet Union.
One of the highlights of a visit to Tartu is the famed University of Tartu, which is renowned as one of the oldest and highest-ranking universities in the whole of Eastern Europe. It was established in 1632, and has over the years grown into a complex of more than 150 impressive buildings. It takes pride of having some of the most distinguished scientists in the world. Among them is biologist Karl Ernst von Baer, culturologist Juri Lotman, and the physicist Wilhelm Oswald, a recipient of the Nobel Prize. The university comes alive during spring, which is when the students celebrate academic traditions with a certain youthful exuberance.
Another attraction is the Toome Hill, which is steeped in much history, having bore silent witness to countless wars and important occurrences. In the early 19th century, it was transformed into a public park with trees, landscaped gardens, paved paths, and bridges. The site is an ideal spot for a picnic, as well as for sightseeing, given the number of historical sites found nearby. Among those are Toome Cathdral and the Old Anatomical Theatre.
There is also the so-called Devil's Bridge, which was built to honor the 300th anniversary of the Russian Romanov Dynasty. One, too, can head to the St. John's Church, an edifice dating back to the 14th century that has gained recognition for its collection of medieval terracotta figures numbering to thousands. Another famous structure is the St. Catherine's House that was built in 1790 and served as the seat of power for the city's rulers. Today, it has been converted into Tartu City Museum, which features displays concerning Tartu's past.
User blogs:
Cheaper galactic spaceliner unveiled
News from http://news.ph.msn.com/top-stories/article.aspx?cp-documentid=3737940 Richard Branson unveiled Monday a commercial spaceliner offering tourists a cheaper chance to experience the thrill of weightlessness and view the splendor of the Earth from space. The British billionaire hopes to offer tickets aboard his spacecraft at a cost of 200,000 dollars each, giving adventurous ... Read full Blog post
Indonesia Eco Tourism
Tour Itenaray Day 01 BALI - LABUAN BAJO – RINCA ISLAND – KOMODO ISLAND (L.D) Pick up from your hotel in Bali and transfer to the airport, for flight to Labuan Bajo (West Flores) for approximately one and half hours. On arrival in Labuan Bajo airport, will be welcomed and met with our local representative or tour guide. Than transfer to the harbour to catch a boat cross to Rinca ... Read full Blog post
San Gimignano and San Pellegrino
Night falls on the flourishing and industrious San Gimignano, its 72 towers stand on the low roofs of the houses lit by the moon. This is not a luxury travel spot but is something you don't see every day. In the distance the clatter of hooves echoed tired in the Via Francigena. The hand of the blacksmith stops beating, the frame of the weaver becomes silent, the streets of the tank only a concert ... Read full Blog post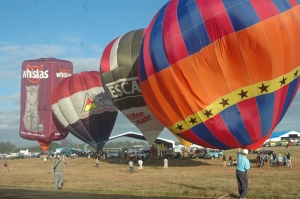 An Aerial fiesta in Clark Pampanga
Its a party in the sky as multi colored hot air balloons piloted ny different pilots from various partso of the world participated in this annual gathering. As early as 5am, the 2,500 hectare aviation complex at Clar Economic Zone in Pampanga was already crammedi with excitement. Clusters of hot air balloon participants busily prepare their own balloons for liftoff as they need to take advantage of ... Read full Blog post