48HourVisit.com

Planning a short visit? Check out

48HourVisit.com

, your online guide for short stays and weekend getaways.

Ad
Talinn is considered as the crown jewel of Estonia, as well as its capital and economic hub. Found near the coasts of the Gulf of Finland, it is home to around 406,000 inhabitants and even more to a rich cultural heritage. Its first mention in historical records dates back to 1154, when it was documented by the cartographer Muhammad al-Idrisi as a small town like a large castle among the towns of Astlandia. The city itself is a hodgepodge of medieval buildings, old churches, and cobbled streets lined side by side with modern high-rises, restaurants, and nightclubs.
The highlight of any visit to Talinn is its so-called Old City section, a well-preserved part of the city that dates back between the 15th and the 17th centuries. Since it is steeped in history, it has been declared as a UNESCO World Heritage Site. Another landmark is the Alexander Nevsky Cathedral, which is characterized by its unique onion-shaped dome. Designed by Mikhail Preobrazhensky in 1894, the cathedral was built in homage to St. Alexander Nevsky who was instrumental in winning the famed Battle of the Ice in 1242 at Lake Peipus (now Lake Peipsi in Estonia). It demonstrates a distinct Russian Revival style of architecture, and is considered as the largest orthodox cupola cathedral in Talinn.
One can also find there the Talinn Town Hall Square, which has served as the city's primary marketplace and trading hub since the ancient times. It is said to predate the 13th century, and was used for festivals as well as for public executions. Today, one can find there strings of shops and stalls selling medieval artifacts and handicrafts alongside regular goods. Just beside it is the Talinn Town Hall, which stands as one of the city's symbols. Commissioned in the 13th century, the Gothic hall serves as the city's 600-year-old administrative center.
After visiting the complex's many historical and cultural sites, one can head out of the Old City and into the Talinn Zoo, a sprawling wildlife reserve that features a massive collection of mountain goats and sheep. A family delight, it also houses elephants, crocodiles, and various birds flying around the lovely ponds dotting its landscape. There is also the impressive National Art Museum KUMU, considered as the largest government building in Talinn with an area of nearly 50,000 square meters. The main structure is massive, hewn out of limestone rock, and showcases a collection of ancient and modern artworks.
User blogs:
Cheaper galactic spaceliner unveiled
News from http://news.ph.msn.com/top-stories/article.aspx?cp-documentid=3737940 Richard Branson unveiled Monday a commercial spaceliner offering tourists a cheaper chance to experience the thrill of weightlessness and view the splendor of the Earth from space. The British billionaire hopes to offer tickets aboard his spacecraft at a cost of 200,000 dollars each, giving adventurous ... Read full Blog post
Indonesia Eco Tourism
Tour Itenaray Day 01 BALI - LABUAN BAJO – RINCA ISLAND – KOMODO ISLAND (L.D) Pick up from your hotel in Bali and transfer to the airport, for flight to Labuan Bajo (West Flores) for approximately one and half hours. On arrival in Labuan Bajo airport, will be welcomed and met with our local representative or tour guide. Than transfer to the harbour to catch a boat cross to Rinca ... Read full Blog post
San Gimignano and San Pellegrino
Night falls on the flourishing and industrious San Gimignano, its 72 towers stand on the low roofs of the houses lit by the moon. This is not a luxury travel spot but is something you don't see every day. In the distance the clatter of hooves echoed tired in the Via Francigena. The hand of the blacksmith stops beating, the frame of the weaver becomes silent, the streets of the tank only a concert ... Read full Blog post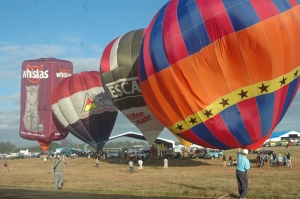 An Aerial fiesta in Clark Pampanga
Its a party in the sky as multi colored hot air balloons piloted ny different pilots from various partso of the world participated in this annual gathering. As early as 5am, the 2,500 hectare aviation complex at Clar Economic Zone in Pampanga was already crammedi with excitement. Clusters of hot air balloon participants busily prepare their own balloons for liftoff as they need to take advantage of ... Read full Blog post